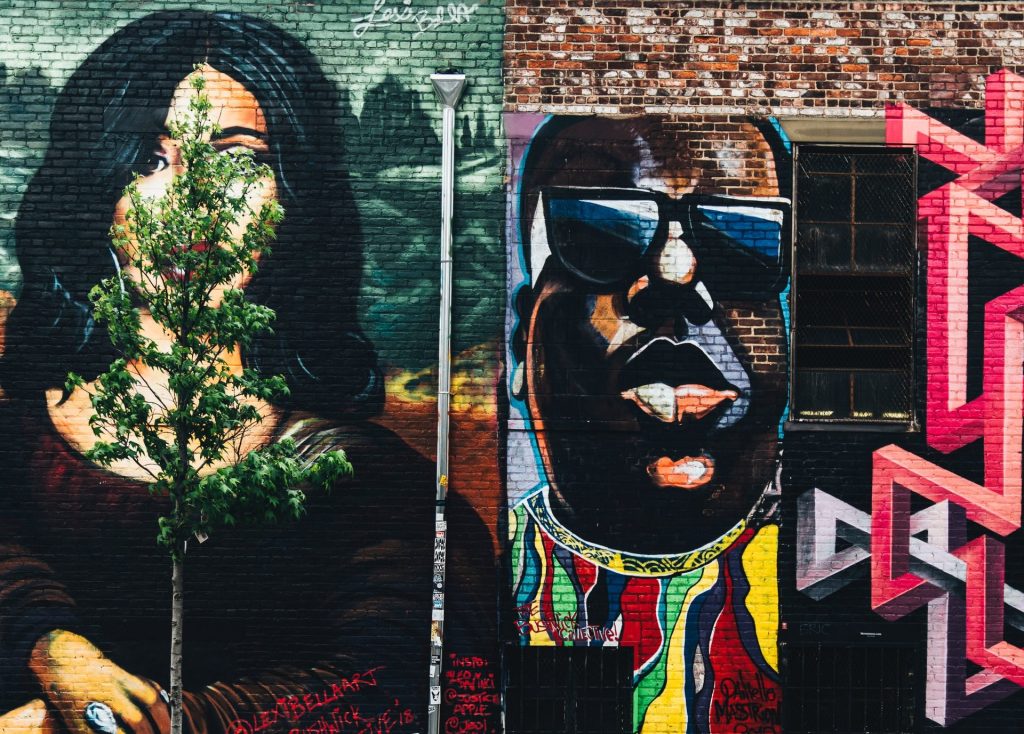 As with other sections of Brooklyn, Bushwick has undergone many changes from its industrial setting to becoming the eclectic and artsy New York neighborhood it's known as today. You can tell when you look at the former warehouses and garages now holding shops and restaurants, their exteriors becoming canvases for street art.
In this travel guide to Bushwick, I'll share where to to find murals, enjoy a meal or a drink, shop for local finds or spend a night out. You can do it all in this artsy Brooklyn neighborhood.
First, how Bushwick became part of New York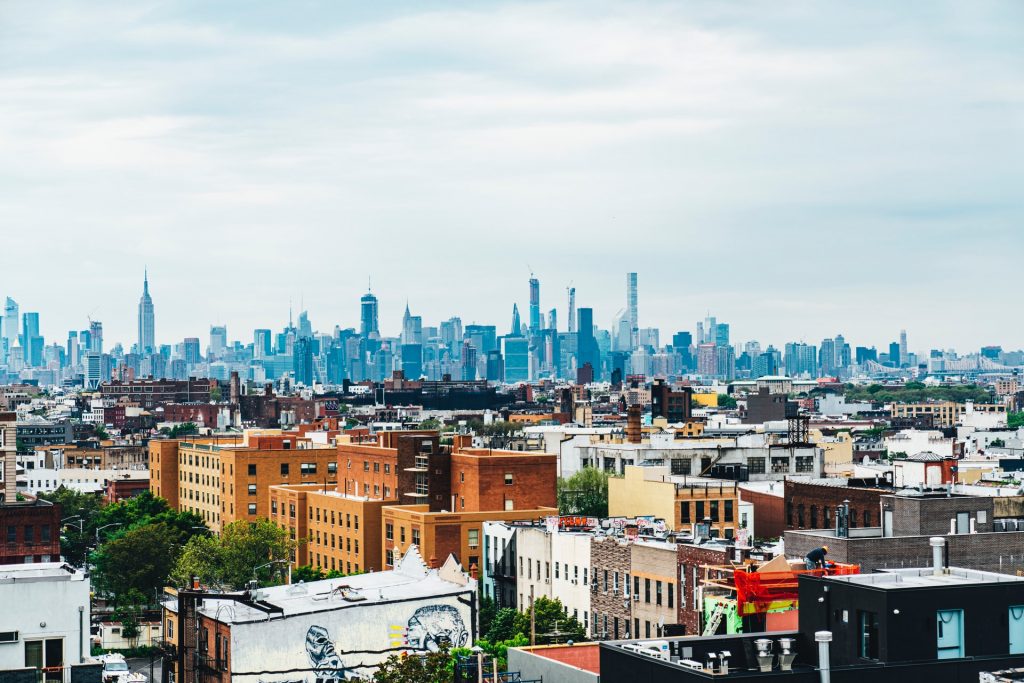 With its name derived from the Dutch word, "boswijck," which means "little town in the words," Bushwick is located in northern Brooklyn. It's adjacent to the Brooklyn neighborhoods of East Williamsburg and Bed-Stuy and the Queens neighborhood of Rosewood.
First inhabited by the indigenous Canarsie, Dutch settlers acquired the land through a deed from the Dutch West India Company, and chartered by Governor Peter Stuyvesant in 1660, making it one of six towns in Dutch-owned Brooklyn. Later, the incoming British claimed Bushwick as part of their Kings County.
Following the American Revolutionary War, Bushwick was annexed to the city of Brooklyn in 1855, which later changed to a borough, consolidation into the City of Greater New York in 1898.
The Bushwick we know today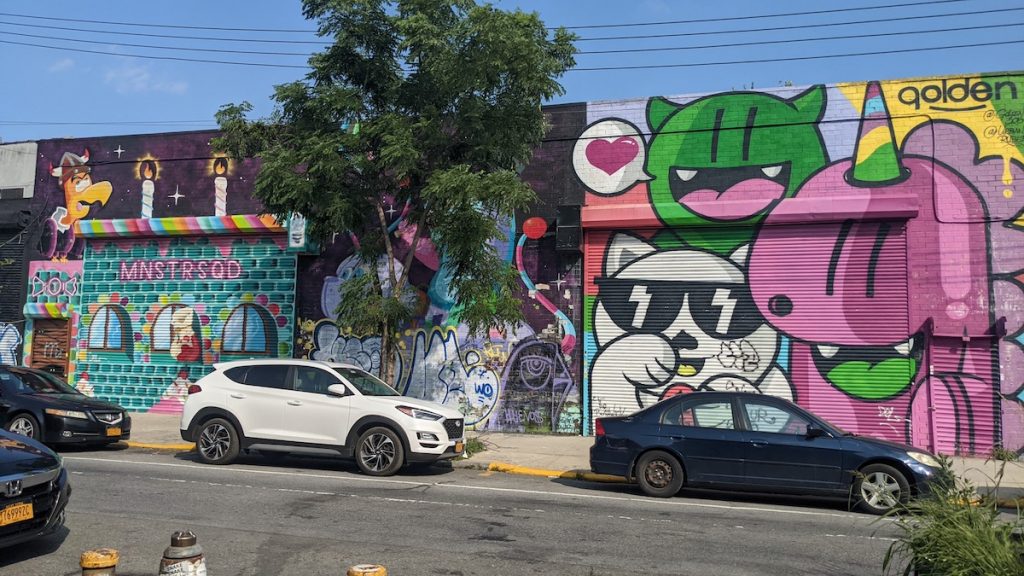 Bushwick used to be farmland, but it evolved into a manufacturing hub in the 19th century. Years later, these industrial buildings would become an urban canvas for street art or repurposed for restaurants, studios, and more.
A wave of German immigrants in the 1840s would apply their knowledge of brewing to their new homeland and develop Bushwick's brewing industry. It would form a brewery block known as "Brewers Row." Today, an office building of the Ulmer Brewery complex still stands at 31 Belvidere Street between Beaver Street and Broadway.
While the financial success of homeowners would have Bushwick thriving into the 20th century, by the 1970s, Bushwick became a rough neighborhood as factories closed up shop. It was also hit hard during the 1977 Blackout. However, by the early 2000s, it turned around, welcoming new businesses, residents, and, yes, tourists like you who can see why this area has become so popular.
Immigrants, including those of Irish, Italian and Jamacian heritage, plus many African American would later relocate to Bushwick, too. Today, the neighborhood has a prominent Latino community plus young urban professionals and artists who all call it home. Looking for a multicultural destination while visiting New York? You'll love Bushwick.
Bushwick's murals and arts scene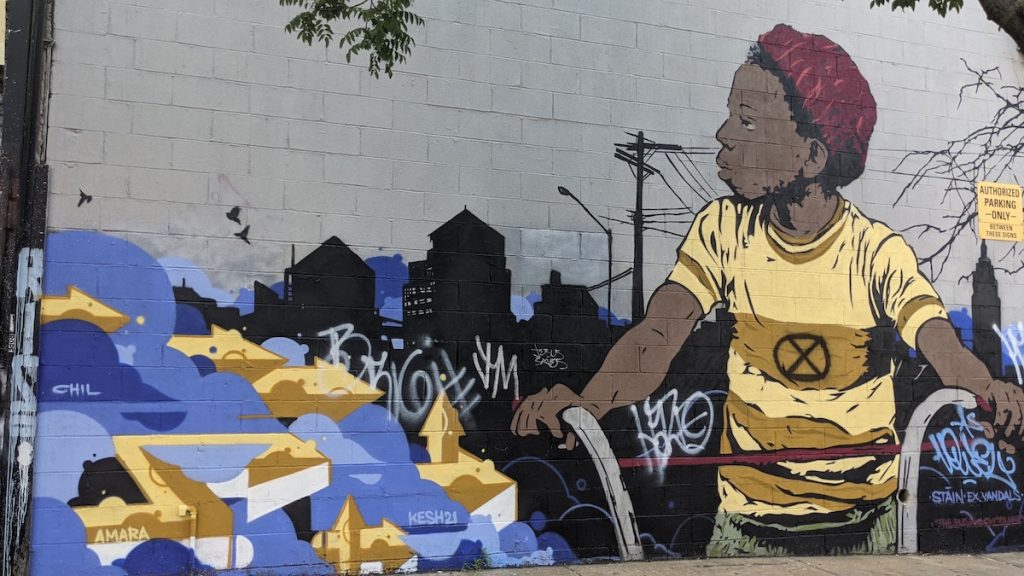 Walking around Bushwick feels as though you're in an outdoor gallery. Street murals grace the walls of businesses located in former garages and warehouses, plus shutters, pavement, fences, and more. Along with taking in the look and design of the mural, you can also spot the name of the artist.
For instance, "Boy on a Bike," which depicts a young man with a red hat and yellow T-shirt, was retouched by artist Chris Stain in 2019. "Till Death Do Us Part" by artist DFace is a popular one. It shows male and female skeleton heads facing each other and is said to be inspired by the graphics of the American pop artist, Roy Lichtenstein.
See a few of our favorite Bushwick murals in our Google Web Story!
Tip: Street murals are especially easy to find along Wyckoff Avenue and Troutman and Star streets, between Irving and Cypress avenues.
A great resource for learning more about street art is Arts in Bushwick, a virtual platform for promoting Bushwick and Brooklyn native artists of color.
The Bushwick Collective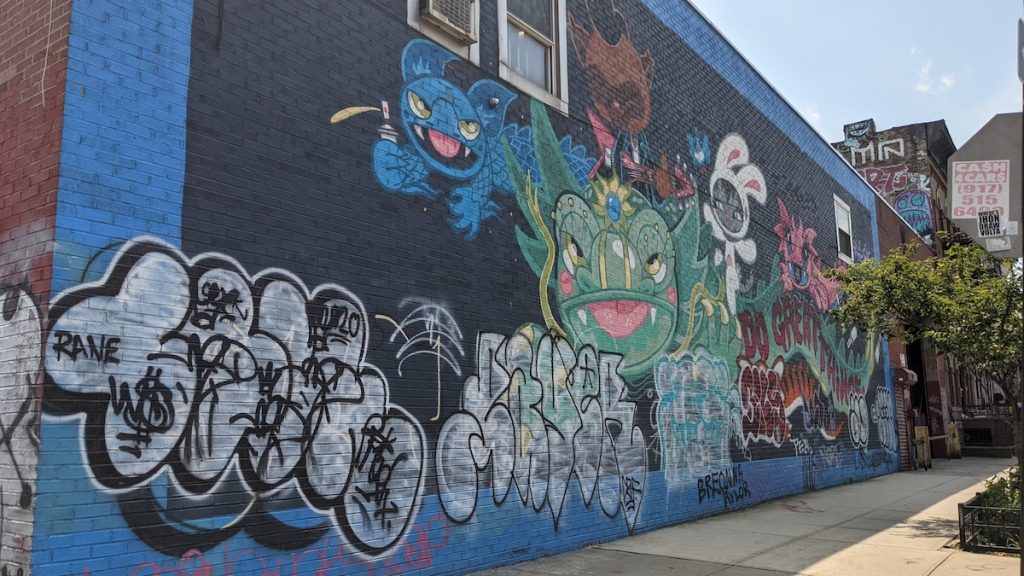 Founded by Bushwick resident Joe Ficalora, to honor his late parents and bring artistry to the neighborhood as a revival, the Bushwick Collective collaborates with artists from Brooklyn and around the world to create murals throughout Bushwick. It also puts on an annual block party in June that draws locals and art-loving travelers.
The area around the Bushwick Collective, which is located along Troutman Street, is adorned with a good bulk of street art plus many eateries.
House of Yes
With nightlife, the House of Yes is an avante-garde performance center and dance club that celebrates creativity and inclusiveness through events and classes. Upon attending their all-night dance parties, you might feel as though you're walked into a whimsical wonderland.
From burlesque performers to aerialists and dance parties, scheduled acts at House of Yes can be mesmerizing to watch or listen to. Among many other entertainers, their space has welcomed guest and resident performers like DJs David Morales and Eli Escobar and risqué cabaret entertainer Susanne Bartsch.
COVID-19 note: This venue is temporarily closed due to the pandemic, but while planning their reopening, House of Yes has been holding events away from their location on Wyckoff Avenue. Check their website for updates.
Where to eat in Bushwick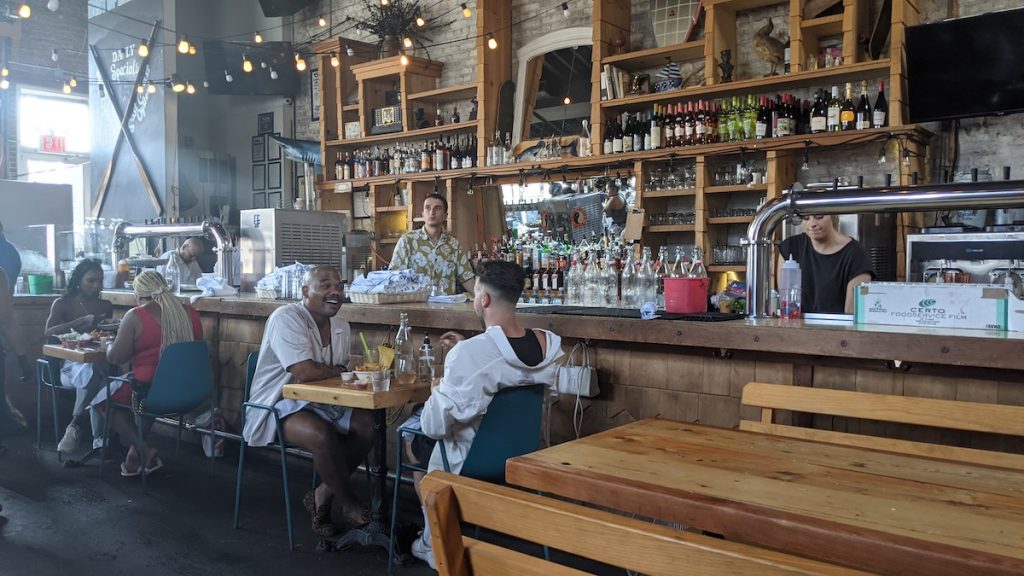 Bushwick's dining scene shows a mix of cuisines representing different cultures and catering to different tastes. There are so many options. Here are a few of my favorites.
Bushwick has you covered for drinks, too.
If you seek caffeine, Bushwick has a good selection of coffee shops including Sey Coffee, Little Skips East and Dweebs. (Mixtape Bushwick also prepares fun and delicious breakfast sandwiches to help you start your day.)
Bushwick Public House sells coffee drinks in the morning and then serves house cocktails later on. A brewery and taproom, the Kings County Brewers Collective — also known as KCBC — is said to be the first brewery in the neighborhood in four decades.
Shopping in Bushwick: 10 stores you must visit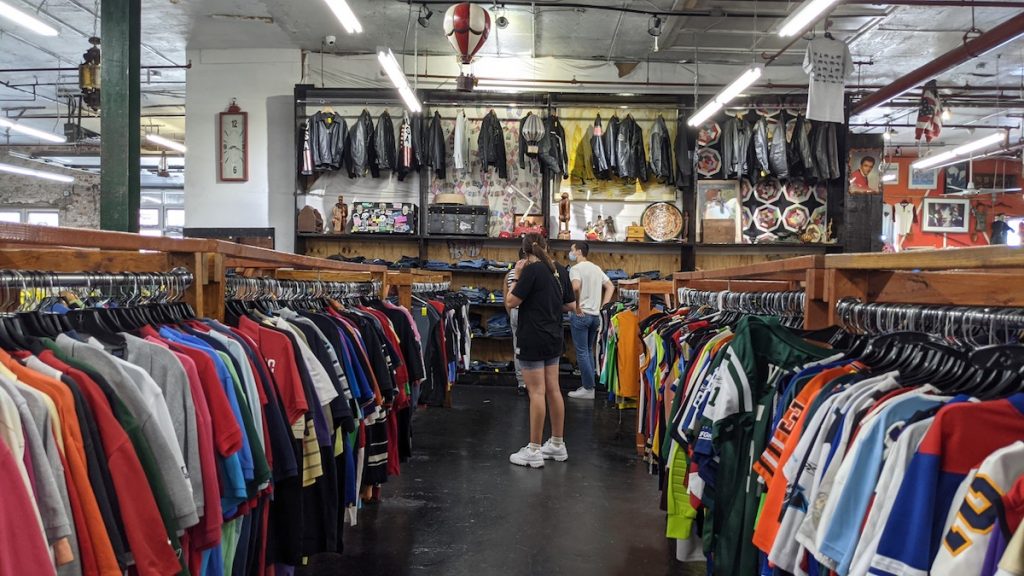 Thrift shoppers will find many options in Bushwick, with stores including L Train Vintage and 28 Scott Vintage. The GG's Social Trade & Treasure Club holds a vintage shop, event space and gallery. Chess and the Sphinx sells designer apparel and accessories, shoes, and jewelry.
Molasses Books is a used bookstore and coffee shop with a small bar space for flipping through pages and perhaps getting a coffee or drink. Catland Books has crystals, tarot cards and other related items within this interfaith space; right now, they offer online tarot readings and other consultation services.
If you're a fan of albums, Vinyl Fantasy carries metal, punk and experimental music records along with indie comic books and cassette tapes.
Started by two gal pals, Friends is an indie boutique carrying clothing, homewares, jewelry, and wellness products along with merchandise made by Brooklyn vendors. It's located in the BogArt, a former warehouse turned into an artistic production studio space.
Better Than Jam's STORE & STUDIO is not only a shop but also an educational center offering workshops relating to textiles.
Confectionery lovers can delight at FINE & RAW Chocolate, a sweet shop and espresso bar with its factory in Bushwick making treats with raw ingredients. Pick up their chocolate hazelnut sauce.
Nightlife in Bushwick
Even in the later evening, Bushwick has a happening nightlife scene with bars, clubs and more late-night hangouts.
How to get to Bushwick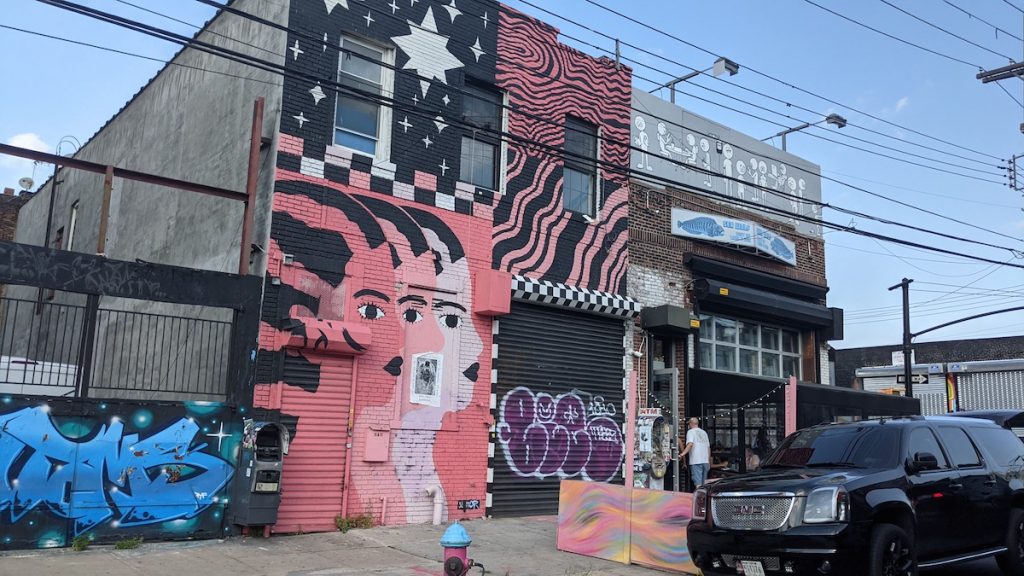 If you're looking to take mass transit to Bushwick, MTA subway lines running through Bushwick are the J, L, and M. I recommend getting off at the Myrtle-Wyckoff Avenue or Jefferson Street stations, if you wish to be closer to finding street art.
Public bus lines going through Bushwick include the B13, B26, B52, B54, B57 and B60.
I would recommend taking public transportation or using a rideshare service as parking might have limited availability.
Add Bushwick to your bucket list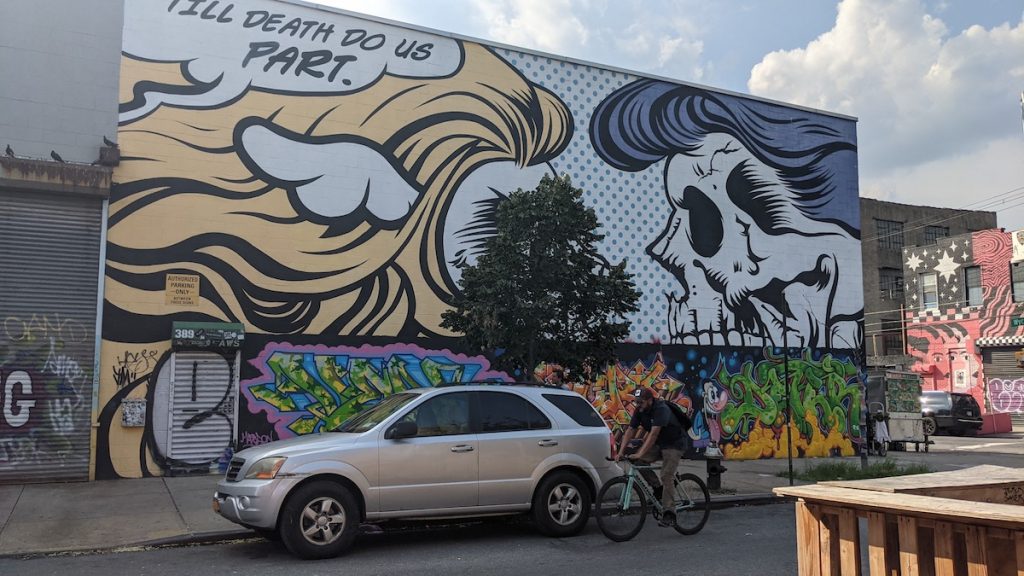 Bushwick is just one of the many colorful neighborhoods that makes Brooklyn so exciting. Sure, some tourists miss it, spending most of their time in Manhattan, but if you can fit a trip to Brooklyn into your busy NYC itinerary, I highly recommend it.
You'll find murals, indie shops, great food and understand just a little bit more what makes New York the real New York. If you have a busy schedule, spend part of a day taking a bus tour through Brooklyn, the Bronx, and Queens so you can sample what life is like in some of the other NYC boroughs.