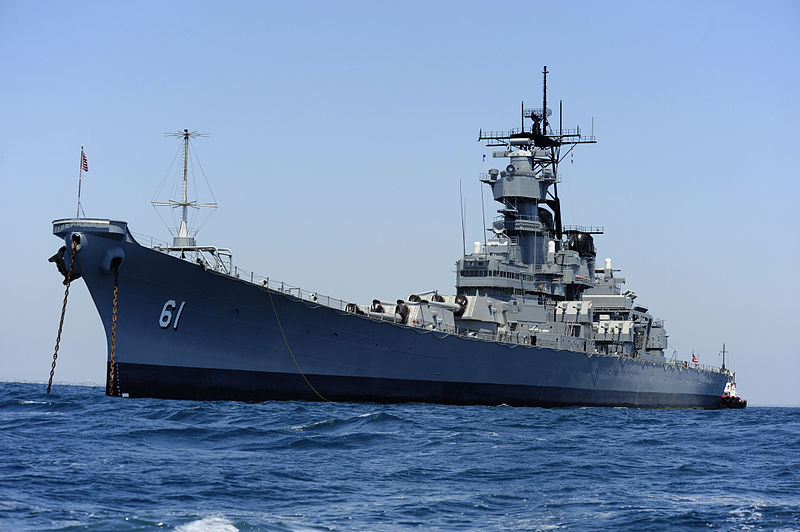 Visiting a navy battleship probably isn't the first thing that comes to mind when talking about a trip to Los Angeles, but there is one ship you should visit while you're here. It's a historic battleship visited by presidents and the only one on the West Coast that is open to the public.
Battleship USS Iowa is a retired battleship now docked at the Port of Los Angeles in San Pedro, a community on the southern tip of the city of Los Angeles. It's been rated one of the "Best Cool Exhibits to See With Your Kids" by CBS Los Angeles. Want to know why?
Keep reading to learn about the history of this ship, what makes it special, and what you can see on board.
All Aboard the USS Iowa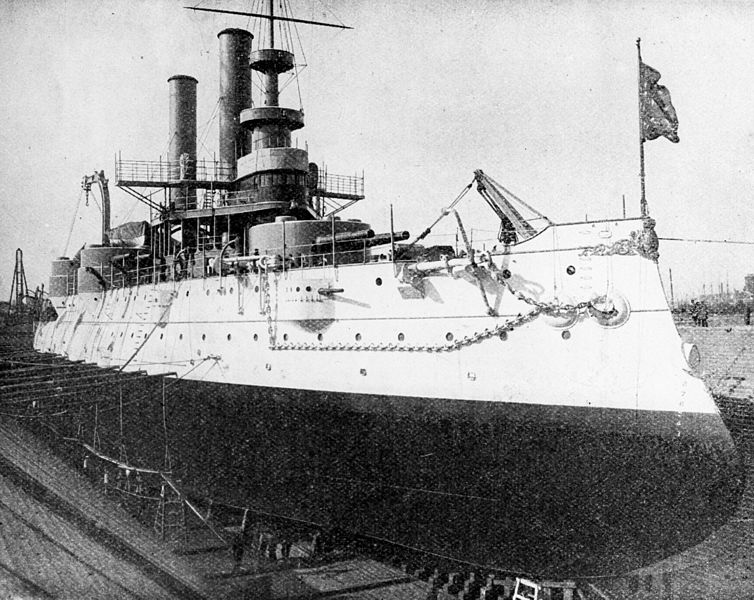 There are four Iowa-class battleships in the world, and all have been turned into museum ships around the country. The USS Iowa, though, is special as it is the first of its class — known as the "lead ship," if you want to use the lingo.
The History of the Battleship of Presidents
Identified by its hull number, BB-61, the USS Iowa Battleship was built in 1942 in Brooklyn, New York, and has served in four wars. It's unique as the only Iowa-class battleship that served in the Atlantic Ocean during World War II. The ship was also used in raids during the Korean War. It was eventually decommissioned in 1990 and then found a new purpose in 2012 when it opened as a museum.
USS Iowa is the battleship that has hosted the most presidents, hence its nickname, the Battleship of Presidents. During the ship's 70 years of service, the USS Iowa hosted three presidents: Franklin D. Roosevelt, Ronald Reagan, and George H. W. Bush.
The Captain's Cabin on USS Iowa has the only bathtub installed on a U.S. Navy battleship. It was installed for President Roosevelt since he was suffering from polio and hot baths were thought to be therapeutic.
People sometimes ask if the USS IOWA can be reactivated. The short answer is — technically yes. The USS Iowa was removed from the Naval Vessel Register (which allowed the ship to become a museum ship) and both the Navy and Marine Corps had certified that it would not be needed in any future war. However, the National Defense Authorization Act of 2007 required the battleship to be kept and maintained in a way that it could be returned to active duty — you know, just in case.
Fun fact: This ship had another nickname during the Cold War, "Big Stick." Apparently the nickname referred to Roosevelt's view on foreign policy: "speak softly and carry a big stick."
What to See and Do Aboard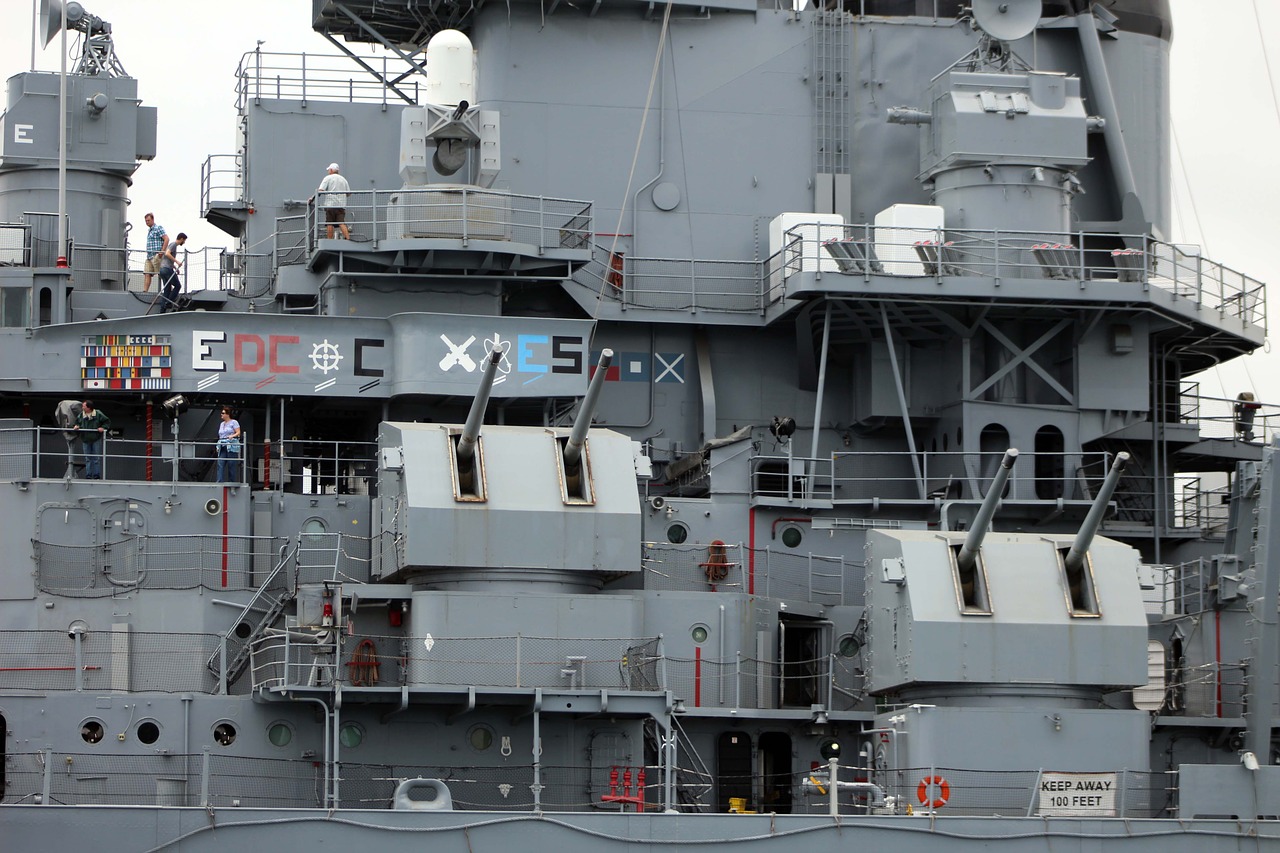 It's one thing to read about history and another to walk the same ship the sailors did. The battleship is over 880-feet long and can house a crew of 2,800. There's plenty to see and a lot of history to take in, but wear your good shoes. There are a lot of steps to climb if you want to explore all levels of the ship.
If you're looking for something a little unique, take a gander at the ship's weaponry. The vessel carries the largest guns on any U.S. Navy battleship — nine 16-inch 50 caliber Mark 7 guns. Each one can fire a 2,700-pound armor piercing shell that can penetrate up to 30 feet of concrete. It's pretty impressive to see in person.
When you visit, be sure to head up to the missile deck and the helicopter deck for another interesting find: a Korean War-era helicopter.
There are signs all around the ship explaining the history of what you're seeing and what life was like on the ship, but for the best tour experience, we recommend also downloading the app for an interactive tour. You don't have to be glued to your device, though. The ship is staffed with a few volunteer veterans eager to share their personal stories with you.
The USS Iowa for Families
This is a great place for families if you want a museum-like experience that's not your normal framed-art-on-a-wall tour.
Kids will enjoy seeing the guns and helicopter and other artifacts as well as simply the fun of being on a ship, but there's something especially made for younger visitors. You can let them do their very own USS Iowa scavenger hunt — just ask one of the staff about it.
The scavenger hunt involves following the ship's floppy-eared mascot, Vicky the Dog, throughout the battleship. Vicky, short for Victory, has been part of the crew since the battleship was commissioned in 1943, reportedly brought on board by Captain John L. McCrea per his wife's request. This popular pup hobnobbed with some important people and slept at the foot of President Roosevelt's bed during the president's trip, so he's a perfect guide for any young explorer.
Visiting the USS Iowa: What It Costs, Where to Eat, and More
USS Iowa is located around 20 miles from Downtown Los Angeles, so if you're going to make the trek, make it worthwhile. Here's all you need to know to maximize your visit.
How much does it cost to tour the USS Iowa?
Admission to the USS Iowa is around $20 per person. You can get $2 off the price of admission if you take public transit and show your valid TAP card (read more about taking public transportation in LA). There's also a flight simulator guests can enjoy for an additional $8.
Some parts of the ship are only open to visitors who are taking special guided tours. These tours can be added on to your admission, including a Presidents Tour and a below-deck engineering tour, but the add-on cost covers a group of up to six people, so it's better to go with a larger group if you're thinking about adding one of these tours.
How long does the USS Iowa tour take?
Plan to spend 1-2 hours here. For the best self-guided tour experience, remember my tip above to download the app. The special guided tours, however, range between 30 minutes to 2.5 hours, so plan accordingly if you booked one of the add-on tours.
What restaurants are near USS Iowa?
Being in a port city, you should seek out some seafood while you're here. I love the giant shrimp tray at San Pedro Fish Market, which also makes for a fun family meal. (See my photo above.)
For some old-school Italian, there's J. Trani's Ristorante — it's lasted four generations for a reason. If you're looking for breakfast before heading to the ship, consider pastries and coffee at Colossus Bakery. And while they don't serve food, beer lovers should check out the Brouwerij West tasting room, another great LA experience.
LA's Battleship Museum
History lovers will certainly love visiting this battleship, but even if you aren't all about U.S. naval history, this massive ship is pretty cool to check out when you're exploring the rest of the neighborhood. Plus, it's one of those places that's secretly educational, making it perfect for families. Kids won't even know they're learning about history while they follow Vicky on their scavenger hunt.
The location is great, too, a little farther off the tourist track than many LA sights. San Pedro is in an area of Los Angeles the locals call South Bay, and after your visit you can explore the coastal views from Palos Verdes and continue north to Venice Beach.
There's a lot to see on any tour of LA. Need more advice on what to do in this incredible city? Check out our blog posts on some of our favorite LA attractions.