All NYC Tours
5,062 Reviews
Private Statue of Liberty and Ellis Island Tour
A private tour of New York's two most iconic landmarks
When Flexible
Duration 5 hours (4 hours guided)
Meeting Point Castle Clinton
Starting at $75 per adult
Private guide

A local expert dedicated to your group

Top-rated

Thousands of reviews averaging 4.9 stars

Worry-free booking

Flexible scheduling and refunds
Highlights
Experience two of New York's best attractions with a private guide for just your group.
Save time with your no-wait roundtrip tickets for the ferry.
Learn about America's heritage at the Ellis Island National Museum of Immigration, audio guide included.
Browse the exhibits at the Statue of Liberty Museum to discover more about this famous sculpture.
Capture some of the best photos of the New York skyline from the ferry.
Take advantage of your time with your local guide to get insider tips for the rest of your visit to NYC.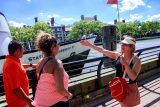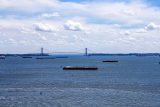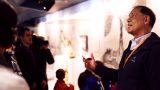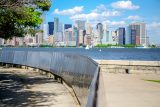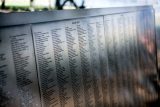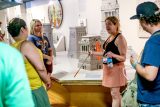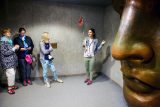 Itinerary
Castle Clinton

The former American immigration station in Battery Park, where you'll meet your private tour guide

Statue of Liberty

Including access to the Statue of Liberty Museum

Ellis Island

With a guided tour of the island, including the American Immigrant Wall of Honor

Ellis Island Immigration Museum

Cultural exhibits about the immigrants who passed through here on their journey to America
Plan your trip
Private tour
This is a private tour for groups of 2-15 people. For groups larger than 15, please contact us for discounted rates.
Tour ending point
The guided portion of this private tour ends at Ellis Island. Stay as long as you like and then take the ferry back.
Accessibility
This private Statue of Liberty and Ellis Island tour is accessible for strollers and wheelchairs.
12:30 p.m. tour
Visiting Ellis Island depends on the ferry schedule for our 12:30 p.m. tour. Ellis Island may not be available for afternoon departures during the high season.
Refund policy
We offer a 100% refund up to 24 hours before the start time.
Reviews
Fantastic experience
Great tour with plenty of history - advice - and humour about two such important and visited places. This is the second time we have been but the first time guided and it is WELL worth the money to get the full experience.
— Nate
Great tour experience!
John was a fantastic tour guide for our tour of the Statue of Liberty and Ellis Island. My family and I learned so much from him. The tour was lively, interactive and fun. If you are looking for a small group tour while in NYC, check this one out!
— Zasha
Organized and informative
Had a wonderful experience! Mike was our guide for this experience and did a wonderful job. It was nice having someone keep us organized!
— Cassity
FAQs
How much walking is there?
We'll be on our feet for most of the tour on Liberty and Ellis islands. The ferry also has stairs. For this private tour, we can work with your mobility level to make sure you have a great experience.
What can we bring?
There are security screenings before entering the ferry, so don't bring blades, tools, aerosol, non-folding umbrellas, tripods, lighter fluid, etc.
Are the museums on Liberty and Ellis islands included?
The National Park Service does not allow any guiding inside the Statue of Liberty Museum or the Ellis Island National Museum of Immigration. You will have time to explore these landmarks on your own during your visit after an introduction from your guide.
What is the rescheduling policy?
We understand plans change. You can always change your tour 24 hours or more before you tour. We offer a 100% refund up to 24 hours prior to your tour start time. Within 24 hours of your tour, we would have incurred hard costs and therefore cannot allow rescheduling or cancellation without costs.
What if it rains?
Our tours run rain or shine, so please check the local forecast to plan. In rare cases when we have to cancel for extreme weather, we'll offer you the chance to reschedule or give a full refund.
What about gratuities?
Tips are always appreciated but never expected. They're a great way to tell your guide they did an awesome job and show your appreciation.
NYC travel guides

Statue of Liberty and Ellis Island: Dos and Don'ts for Your Visit
As two of the most popular attractions in New York City, the Statue of Liberty and Ellis Island are probably on your must-see list — and they should…

3 Reasons Not To Miss the Statue of Liberty Museum
The Statue of Liberty is without doubt one of the most amazing monuments you will see in New York. That feeling of awe that becomes you as the…