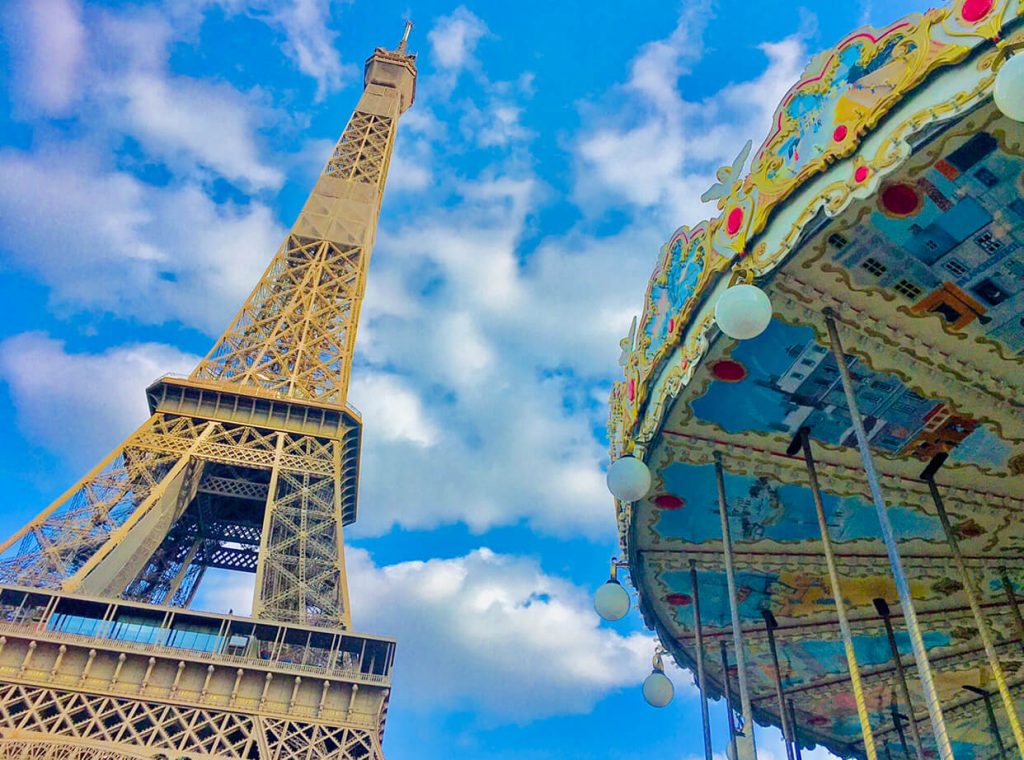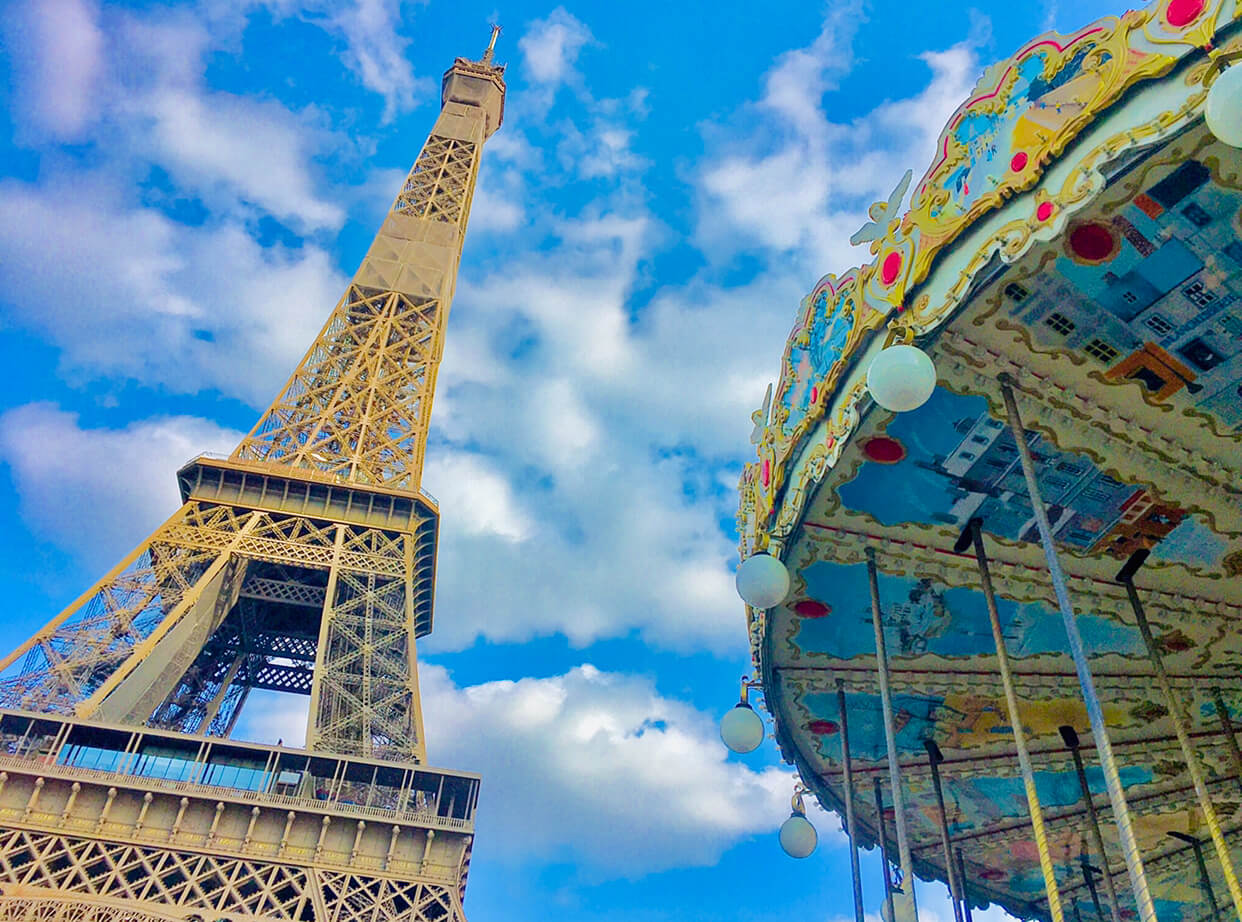 As if seeing — or climbing — one of the most iconic monuments in the world weren't enough to fulfill a Parisian afternoon fantasy, you can top off your day-trip with a swirl and a whirl at the Carousel of the Eiffel Tower.
Stroll across Quai Branly, on the Seine side of the tower, check out the hoopla happening at the foot of the Pont d'Elena bridge — and prepare to be a kid again.
Carousels are surprisingly popular in Paris. The French word for carousel is manège, which is more akin to merry-go-round, and there are roughly 20 around the city. You can find them in neighborhood parks, in the plaza of Hôtel de Ville, at the Jardin des Tuileries, and at many other popular Parisian sights. But maybe none are as well-known — and well-loved — as the light, bright and adorable Carousel of the Eiffel Tower.
Snacking at the kiosks
Treats in Paris are taken very seriously, and Parisians are quick-snack connoisseurs. Kiosks griddling fresh crepes, squishing oranges and stacking up baguette sandwiches dot almost every pedestrian promenade and tourist hotspot — certainly, here at the Eiffel Tower. These aren't just for tourists, either. Parisians love a tasty munch, too, which is one reason the quality is relatively high at most casual snackeries.
There are definitely plenty of high- and low-brow salty and sugary pleasures to delight in when you visit the carousel. Casual counters hand out copious amounts of popcorn, frappes, macarons, pastries and the all-American favorite — the hot dog.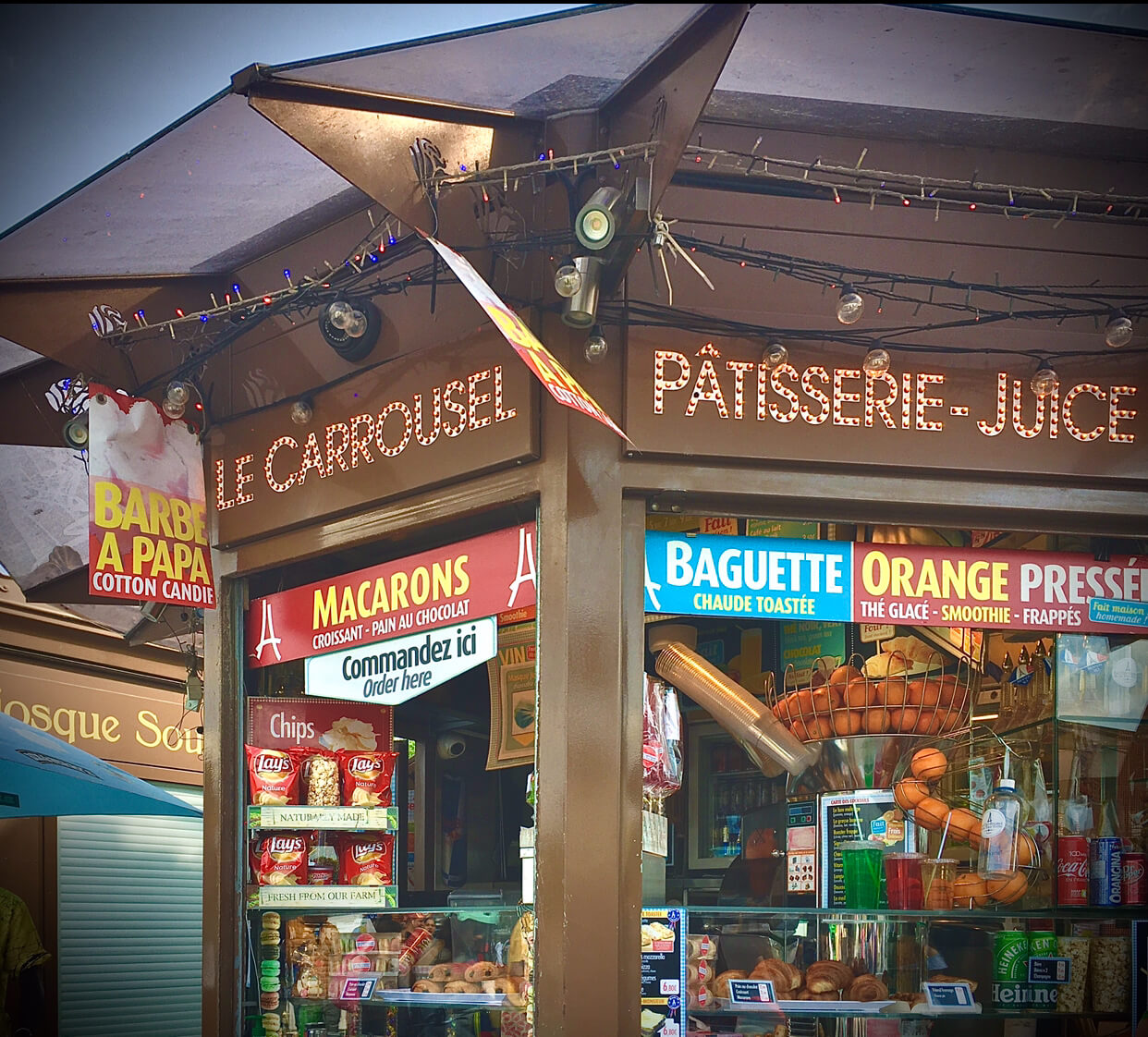 A great thing about these kiosks is that there is a balanced mix of meal-type foods and a variety of decidedly less-than-nutritional items, so if you need a square lunch or just want to some treats, you have plenty of options.
One popular eye-catching sweet is barbe à papa, AKA cotton candy. Can you guess what barbe à papa means? (Spoiler in the photo caption below.)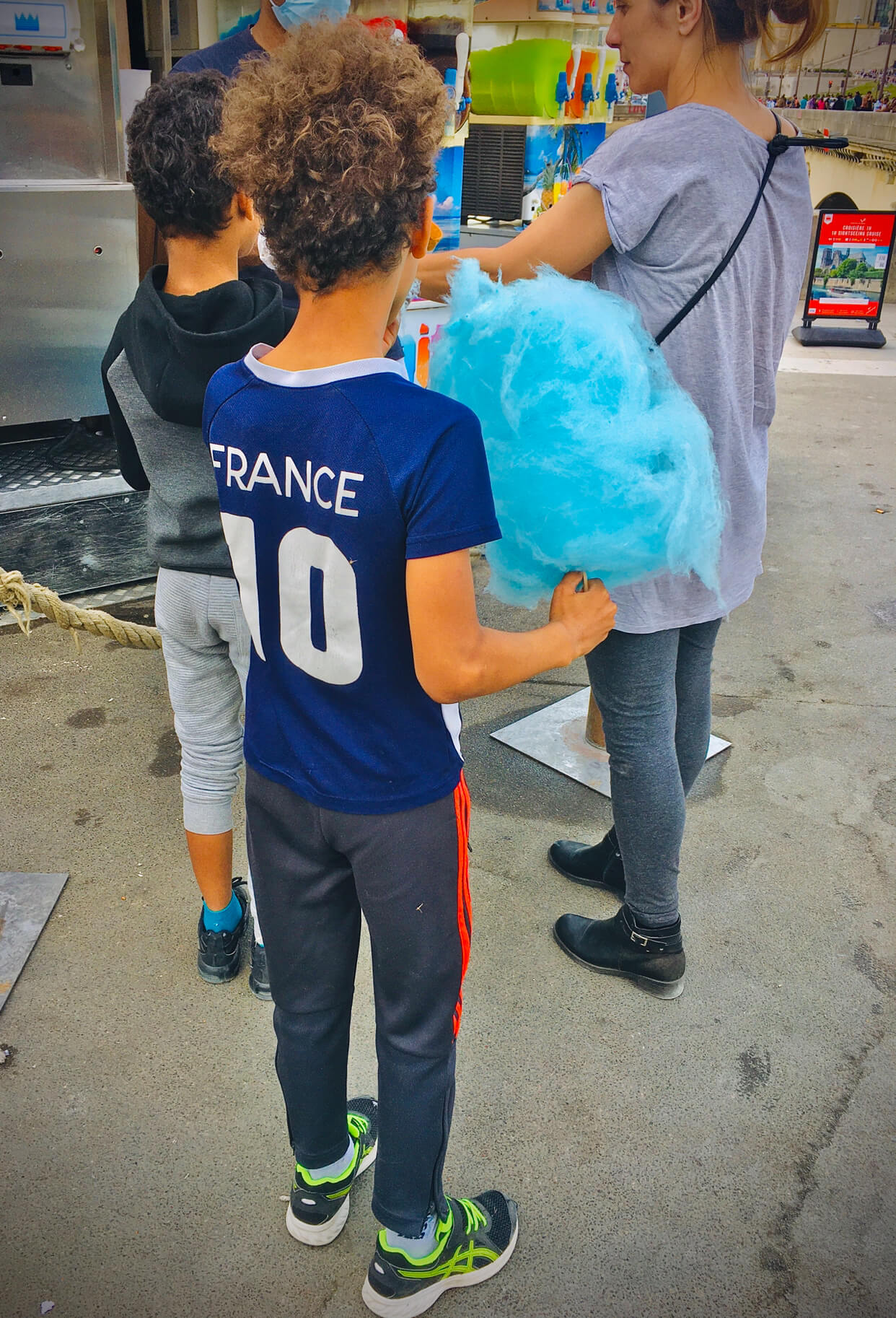 During cooler weather, sipping coffee or hot chocolate and nibbling a melty crepe while enjoying the carnival revelry is an enchanting experience. Once late spring and summer come along and the days begin to get longer, chilly treats reign supreme. Kids are sipping technicolor slushies. Others are licking continually melting ice cream cones while their parents are trying to keep them from disappearing down a little one's arm.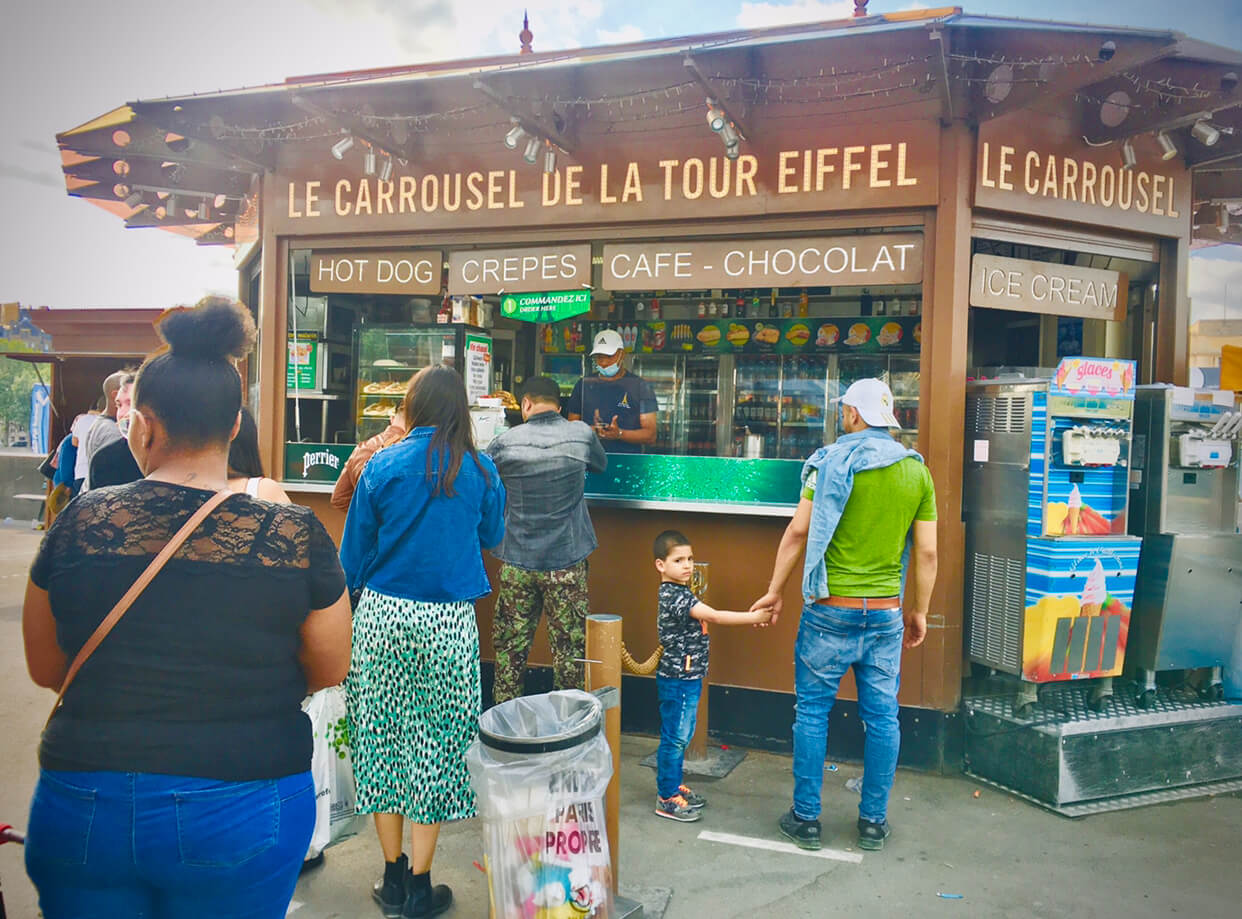 A ride on the carousel
Also known as Carousel XI, this is the only clockwise spinning carousel in Paris, and it's a beautiful representation of a vintage 1900s manège (that's French for carousel). It features a variety of wooden horses, carriages, and a locomotive to climb aboard under a Tiffany-blue canopy with pops of cherry red detailing and rich gold scrollwork. The decorated panels depict sweet and charming colorful street scenes and iconic monuments and buildings, so while you ride your wild steed, you're under a richly colored, old-fashioned cheerful French vista.
With the Eiffel Tower as a backdrop, it makes an incredible photo opp. The two-level merry-go-round is the perfect perch for a scenic afternoon whirl. And at night, under the twinkling lights of the Eiffel Tower, it's an utterly magical spin. At around $3 per whirl, it's a great budget addition to a day of Parisian city sightseeing.
The fun isn't just for kids. Plenty of grown-ups enjoy a trip on this charming carousel. I suspect it could be a fun place for a date as well. There is something romantic about the idea of holding hands with your honey as you take turns looking into each other's eyes — gazing at the spinning visual feast that is Paris.