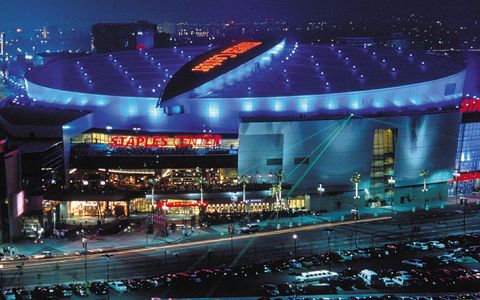 Original post by Andrew Renslow
With so many sport franchises here in Los Angeles, some of those teams must share an arena. New York has Madison Square Garden, Chicago has The United Center, and here in LA we have The Staples Center. Located in downtown, Staples Center is not just home to the Lakers, Clippers, Sparks, and Kings but has also hosted plenty of live performances by musicians. As useful as it is, it's hard to believe the development nearly didn't happen…
Considering the popularity of LA sports teams in the late 90's, I was surprised to learn that the arena wasn't initially built for the LA Lakers of the NBA but mainly for the LA Kings of the NHL. After acquiring ownership of the Kings, Philip Anschutz and Ed Roski set out to build a brand new multipurpose arena for the hockey team in an ideal location. Negotiations between the real estate mogul, entrepreneur, and city officials took over a year and at times seemed to reach breaking points but eventually everyone came to an agreement and ground was broke in 1997. The project cost $375 million and The office supply store, Staples, donated enough to earn The naming rights. The Staples Center opened on October 17, 1999 with a performance by rock legend Brice Springsteen and the E Street Band.
Staples is a whopper of an indoor arena covering 950,000 square feet and reaching as high as 150 feet in some areas. The court transforms to accommodate almost any sporting event or performance. Here is as link to a time lapse video of the court changing from the Kings, to the Lakers, and finally to the Clippers
(Video Provided by The Staples Center YouTube Channel https://youtu.be/v4rZjGNYxuo) when the Kings play, the arena can seat 18,340, any basketball games seat 19,067, and concert can allow up to 20,000 attendees! Along with our NBA, WNBA, and NHL teams, Staples Center has housed the arena football team The LA Avengers as well as an NBA D-league team, the LA D-Fenders. Live events such as the 2000 Democratic National Convention, Michael Jackson's memorial, and a few times it has hosted the championship matches for video game League of Legends.
Staples Center is a great place to visit when you're checking out downtown LA. Its located right near the metro light rail making it super easy and cheap to reach…not to mention that means you can have drinks while watching the game and not have to worry about DUIs. Even if you're not interested in sports, also on the property is LA Live which is loaded with restaurants, bars, and the Grammy museum. It's safe to say that the Staple Center is a STAPLE for any vacationer's itinerary here in LA. It's hard to imagine downtown without what has referred to as "the deal that almost wasn't".