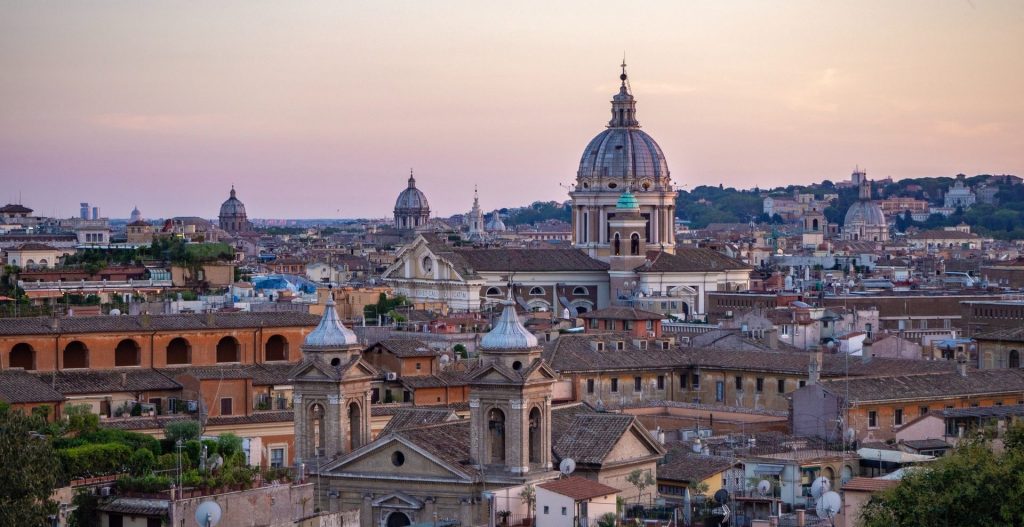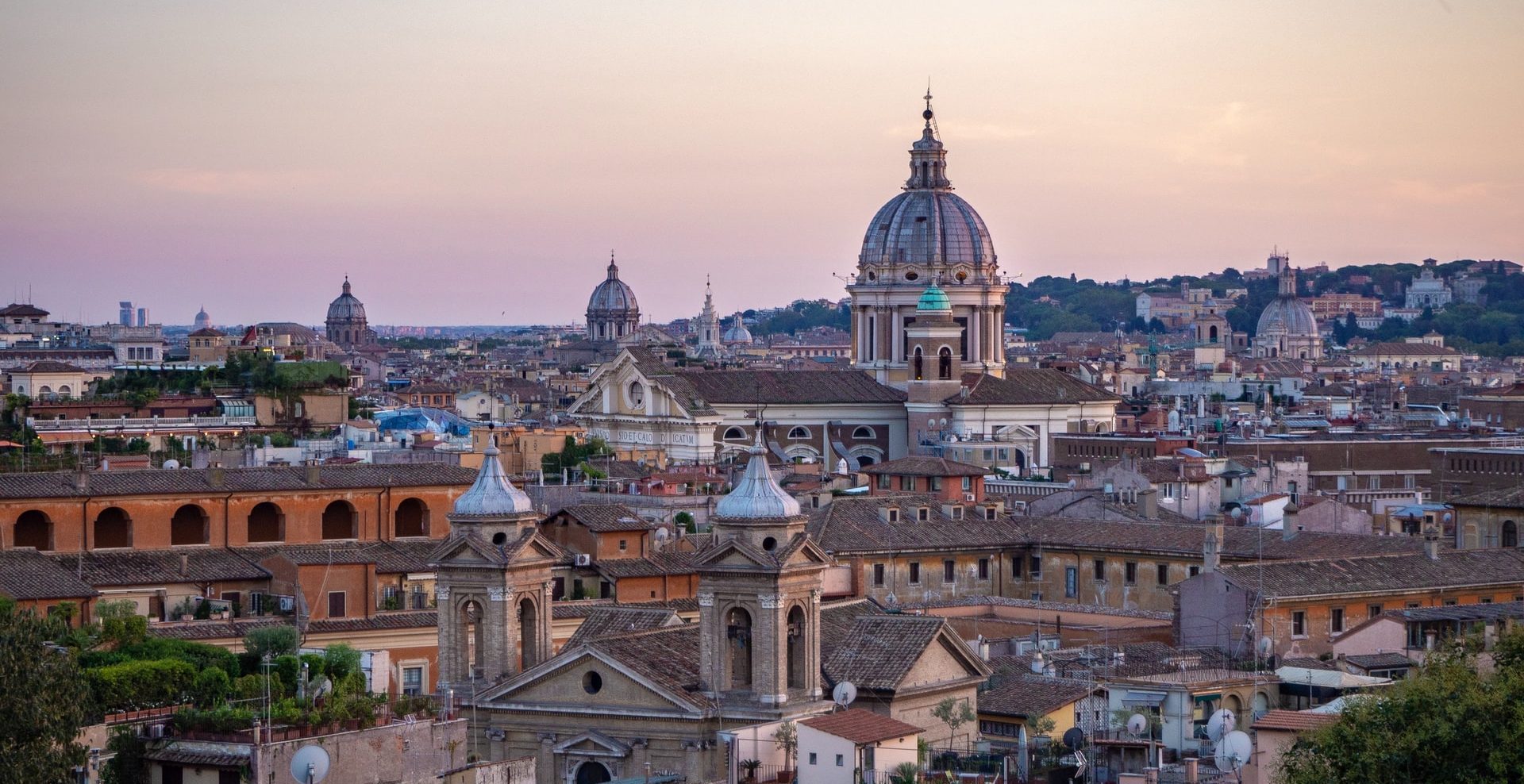 Rome is one of Europe's most historic and picturesque cities, especially noted for its skyline with architecture dating back millennia. What better way to view this iconic cityscape than enjoying a bit of la dolce vita from up high?
I'll take you on a tour of the best rooftop spaces in the city, noting not only the unique atmospheres of each, but also what each has to offer from a quick aperitivo with bite-sized snacks to full-on meals, Roman style.
1. American Bar at the Hotel Forum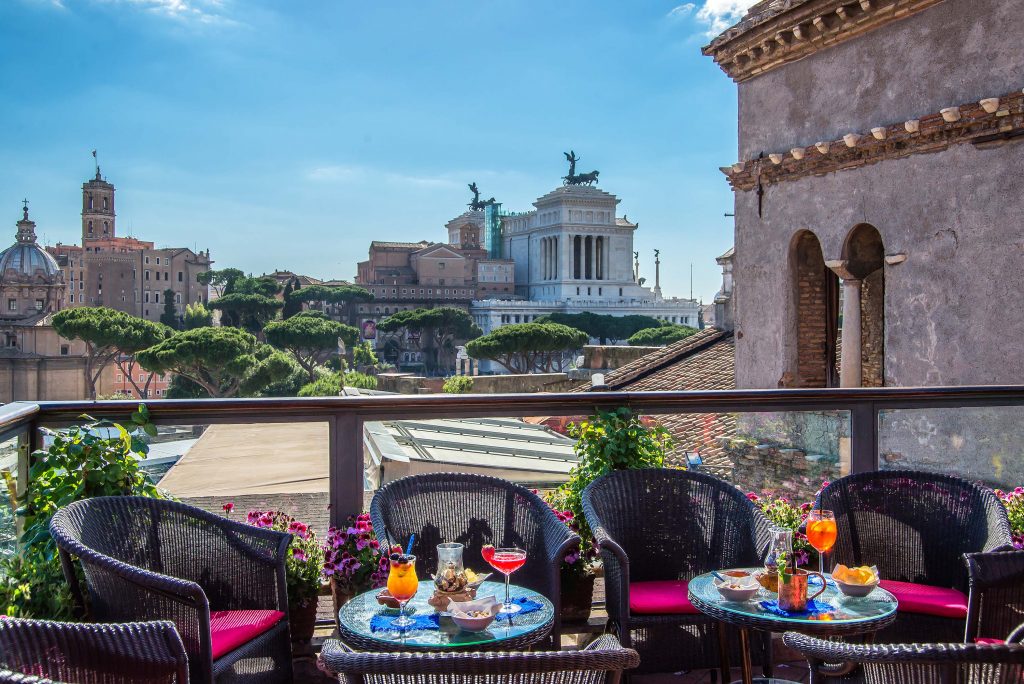 Killer view: Roman Forum
Get a sense of Rome's glorious past while enjoying your cocktail or coffee at the American Bar at the Hotel Forum. Hovering above the historic Roman Forum, this view can't be beat, especially for all you history lovers out there.
This casual bar is a great place to stop for a rest when your feet can't take one more step on that 2,000-year-old road. In the summertime, the bar is cooled by huge umbrellas, and in wintertime, the area is warmed with outdoor heaters.
Afternoon drinks include small snacks of nuts and chips along with friendly service.
Address: Via Tor de' Conti, 25
2. Coffee Garden La Terrazza Paradiso at the Hotel Atlante Star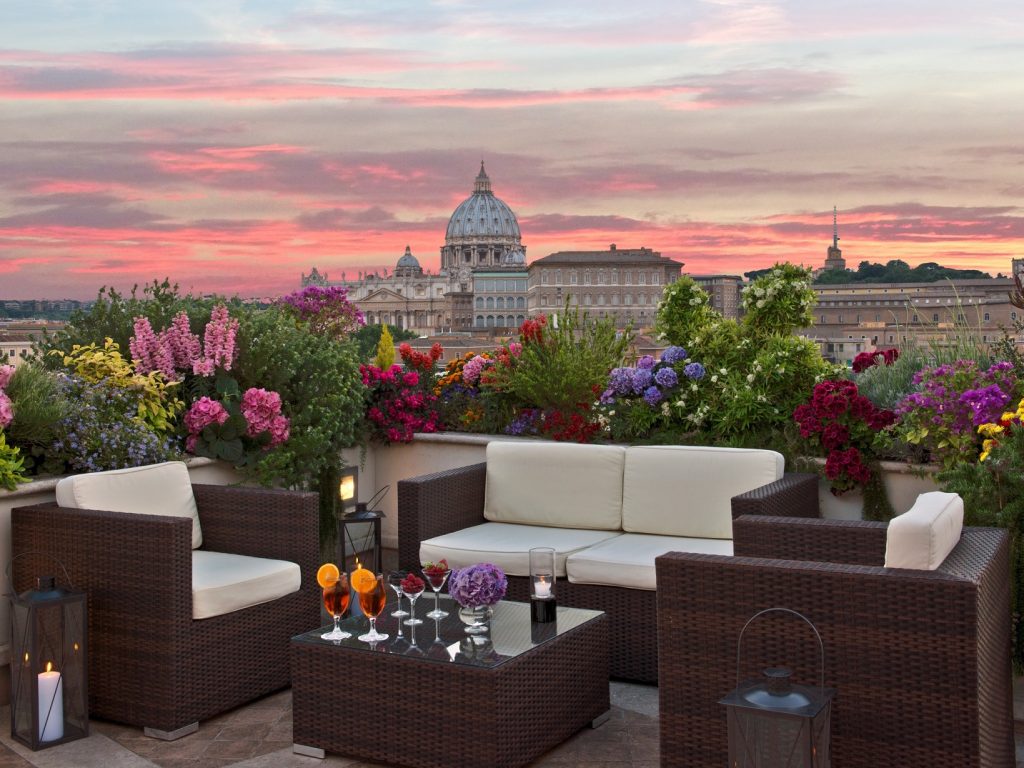 Killer view: St. Peter's Basilica
Located on the top floor of the Hotel Atlante Star, right in the middle of Castel Sant'Angelo and St. Peter's, Coffee Garden La Terrazza Paradiso's main attraction is its unrivaled views of St. Peter's Basilica. It offers an especially great vantage point for the colorful Roman sunsets.
This elegant terrace is immersed in a Mediterranean garden, full of lush greenery and flowers along with comfy sofas and umbrellas for hot summer days. Come for coffee, a refreshing drink or an afternoon cocktail, which will always include something to nibble on such as pizza, nuts, and olives.
If you're hungry check out the restaurant Les Étoiles, offering up traditional Italian meals with a dash of international flair — along with views of the Vatican, of course.
Address: Via dei Bastioni, 1
3. Secret View at the NH Collection Roma Fori Imperiali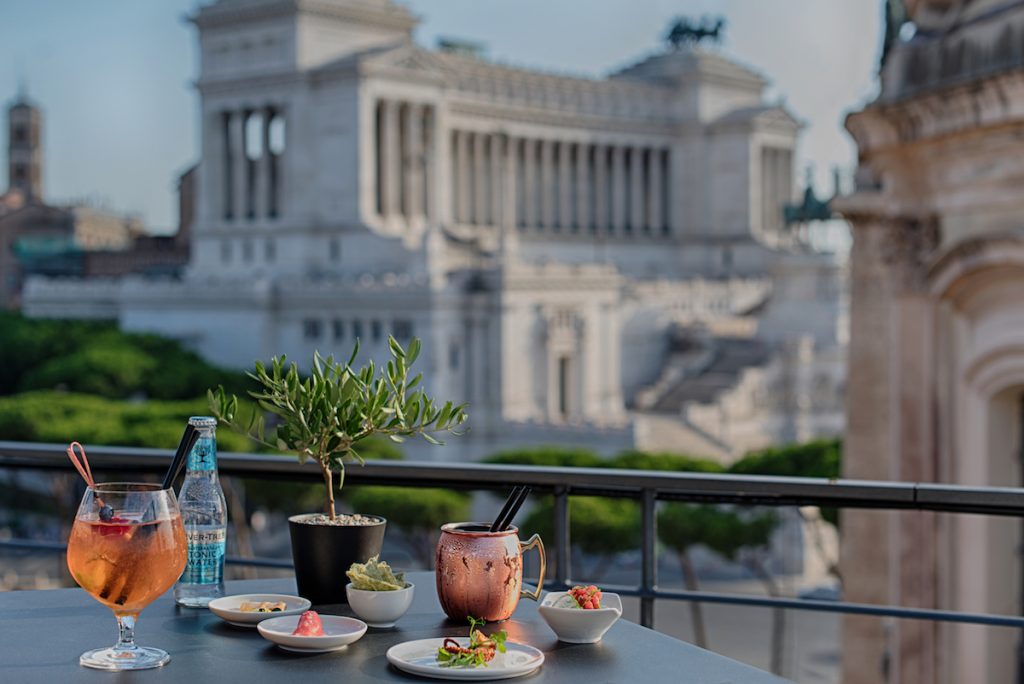 Killer view: The Victor Emmanuel II National Monument
Secret View has the perfect name because unlike many other bars on the list, this pretty terrace has remained a bit under wraps. So take advantage of the opportunity to avoid the crowds and the wait for a table, and spend a relaxing afternoon sipping on a cold spritz and taking in the view of the "Wedding Cake" monument, aka The Victor Emmanuel II — the monument Romans love to hate.
Let's talk about this monument for a second.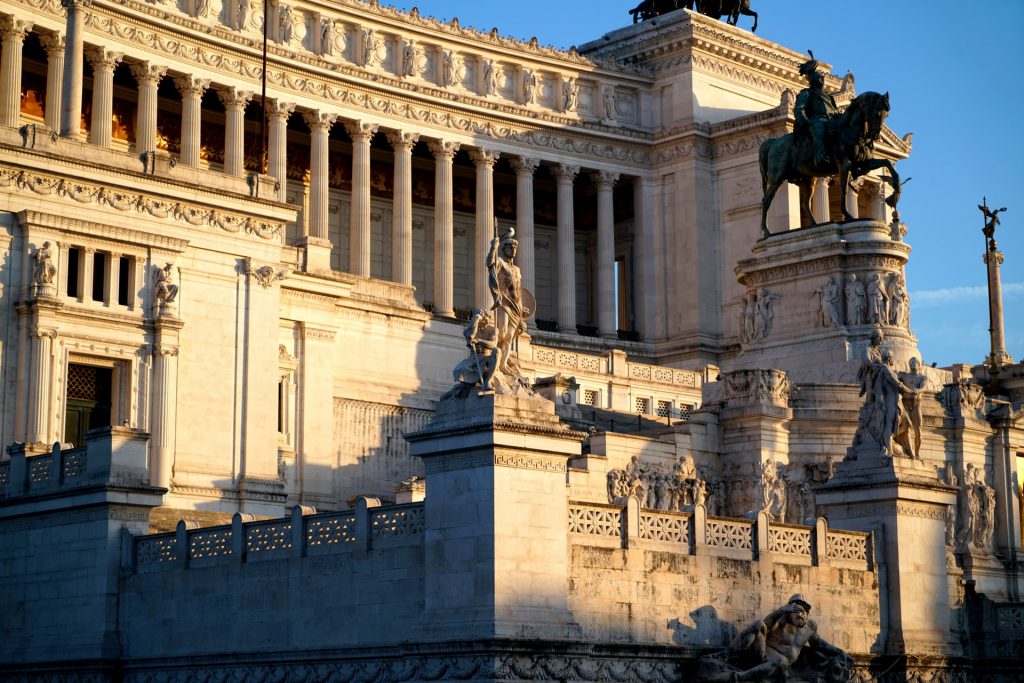 Completed in 1935 to honor the first king of a unified Italy, this monument has had a difficult relationship with Romans. Some feel it's gaudy and too big. Others don't like it due to its location and the fact that it overwhelms the most historical part of Rome.
But no matter your opinion on this monument, no one can deny it's an impressive site that happens to pair perfectly with an afternoon break.
Address: Via di S. Eufemia, 19
4. Settimo Roman Cuisine and Terrace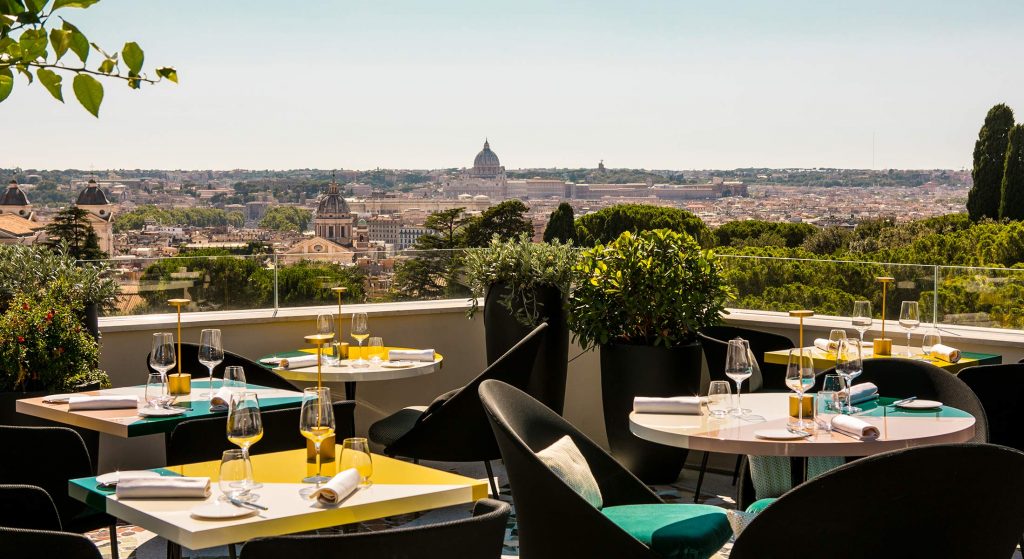 Killer view: Roman skyline
Peacefully positioned near the beautiful Villa Borghese, this rooftop bar and restaurant is the perfect place for a relaxed outdoor meal or cocktail with friends.
At Settimo Roman Cuisine and Terrace, drinks always come with an abundant sampling of Italian goodies, but if you're still hungry, stay for lunch or dinner.
Enjoy the expansive views of Rome with St. Peter's majestically framing the scene. The feel here is bright, happy, crisp, and contemporary.
5. Up Sunset Bar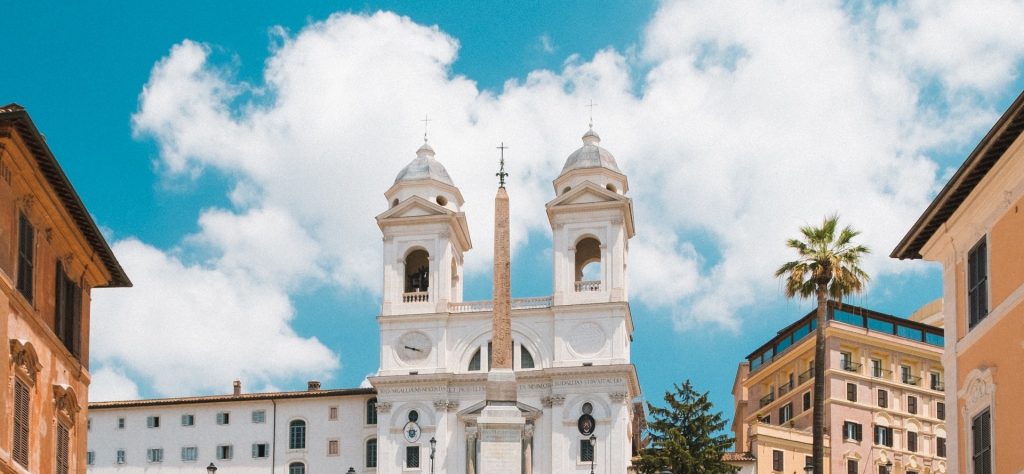 Killer view: Spanish Steps
Shopping and a sunset view? Yes, please! The Up Sunset Bar is located in the heart of Rome, between the Trevi Fountain and the Spanish Steps on the rooftop of the luxury department store, Rinascente.
This bar is open in the morning and serves breakfast items as well as lunch, dinner, and drinks.
I love the view from this place. It really shows off the rich, warm terra-cotta colors that give Rome its special glow. From one side, you can glimpse the top of the Spanish Steps. Elsewhere, it's the classic Roman rooftops, which look like this.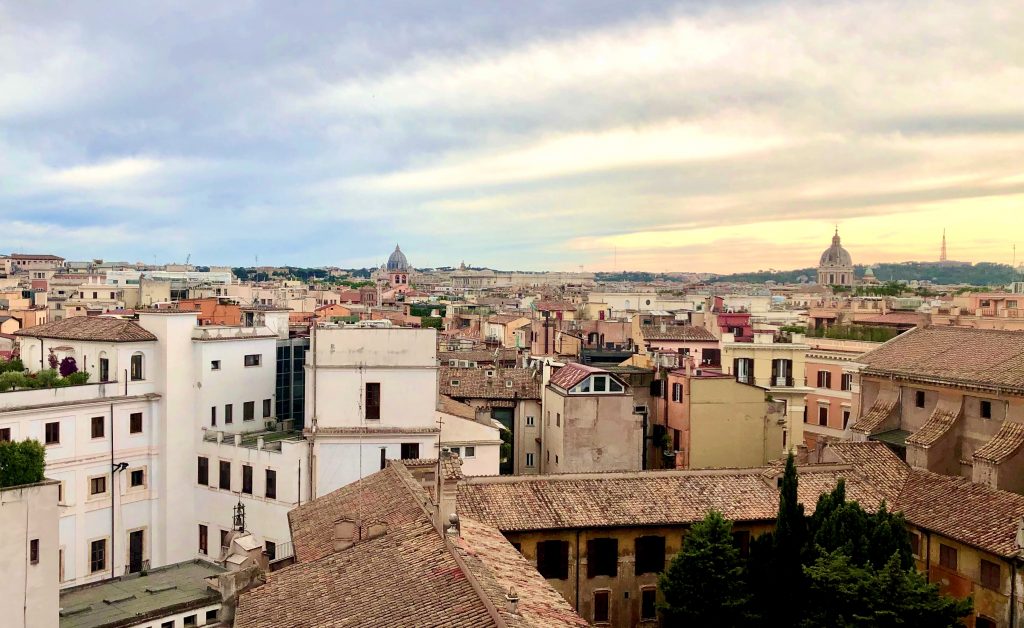 Local tip: No one can deny the beauty of seeing a sunset from the 7th floor, but make sure to take a peek in the basement. This store also has an archaeological site as it was built on top of the ancient Aqua Virgo Aqueduct.
Address: Via del Tritone, 61
6. 47 Circus Roof Garden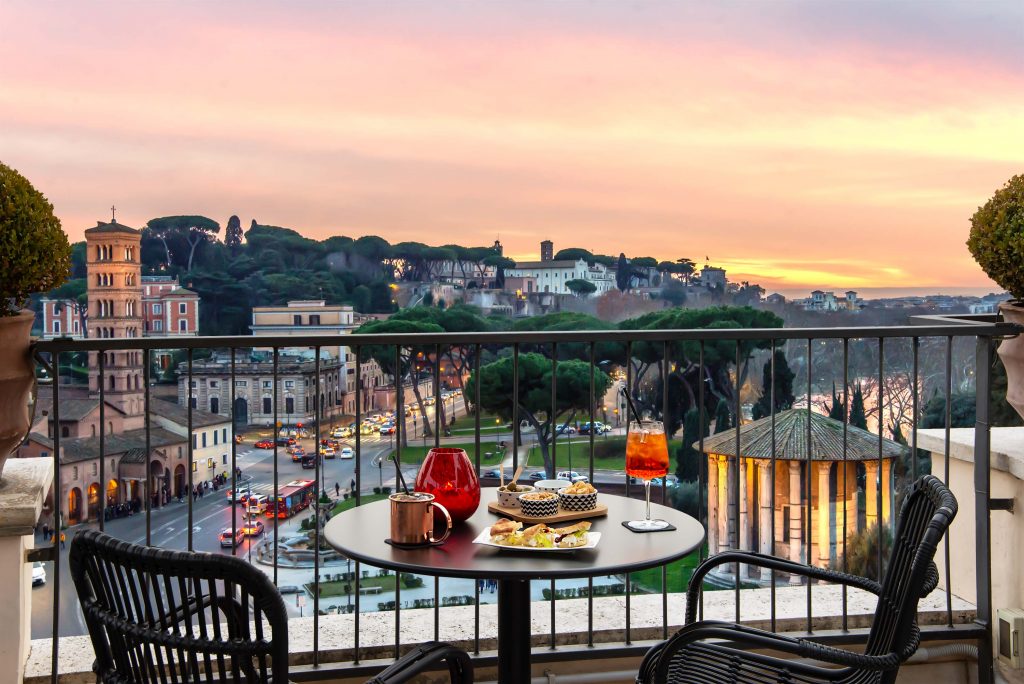 Killer view: The riverside Temple of Hercules Victor
This restaurant and bar is called Circus because it offers a quiet escape from the chaotic (yet fun) city that Rome is. Here you can enjoy a meal from their seasonal menu or just sit back and enjoy the view and a glass of wine — which is always accompanied with appetizers.
The panorama of this terrace overlooks the Mouth of Truth, the Tiber river, and the Temple of Hercules Victor. It's also right down the street from the Circus Maximus.
Address: Via Luigi Petroselli, 47
Food with a view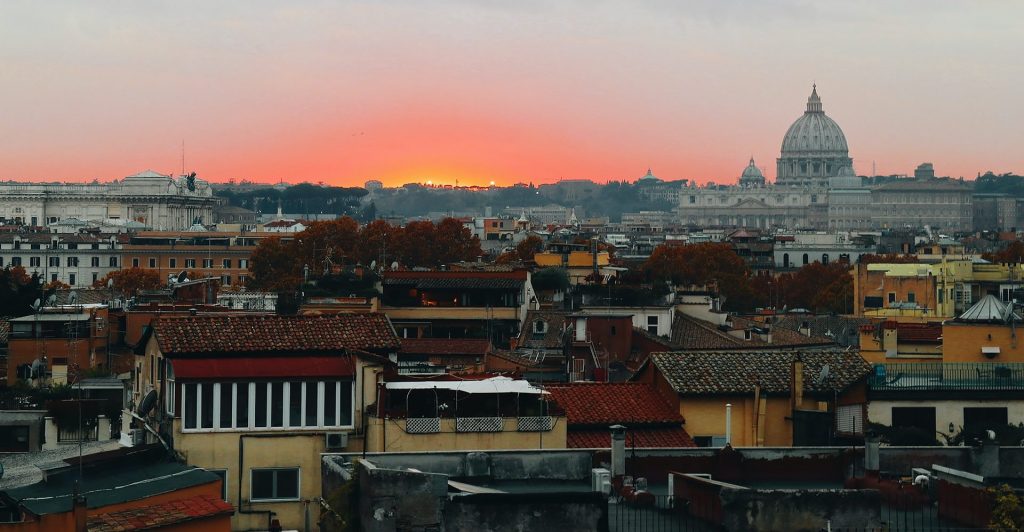 Rome is a city like no other, steeped in history, drama, and romance. There's so much here that sometimes it can be a little overwhelming.
Spending an afternoon at one of these panoramic terraces is like having the best of both worlds — spectacular views of some of the world's most important architectural gems while relaxing with some refreshment. There are plenty of great restaurants in Rome with killer views, but these are just a few of my favorites.
Need a pick-me-up after touring the Colosseum? Check out our guide on where to eat near the Colosseum for the best gelato, drinks, dinner, and more.