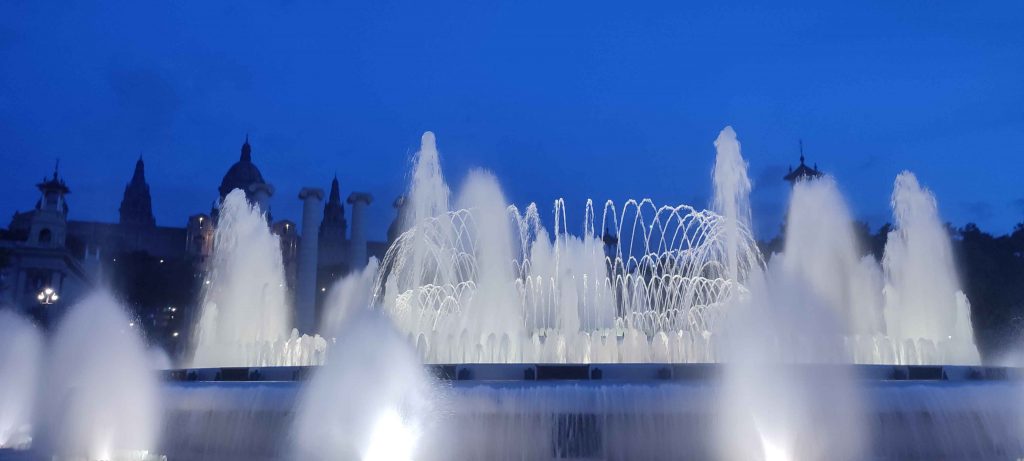 "Barcelona lo tiene todo" this is what we say: "Barcelona has it all." Art, history, architecture, seaside and even hills, among which Montjuïc is the most magical one, no doubt.
According to one esoteric theory, in Montjuïc's soil is the most powerful energy in the whole Catalunya and even one of the entrances to the underworld.
Who knows if all of this it's true? But whether you believe the lore or not, you can enjoy all the magic this hill can offer you. And as a Barcelona tour guide, I'll be happy to share my favorite places with you.
Read ahead to discover the 10 most magical things to do in Montjuïc.
1. Visit the garden where witches used to gather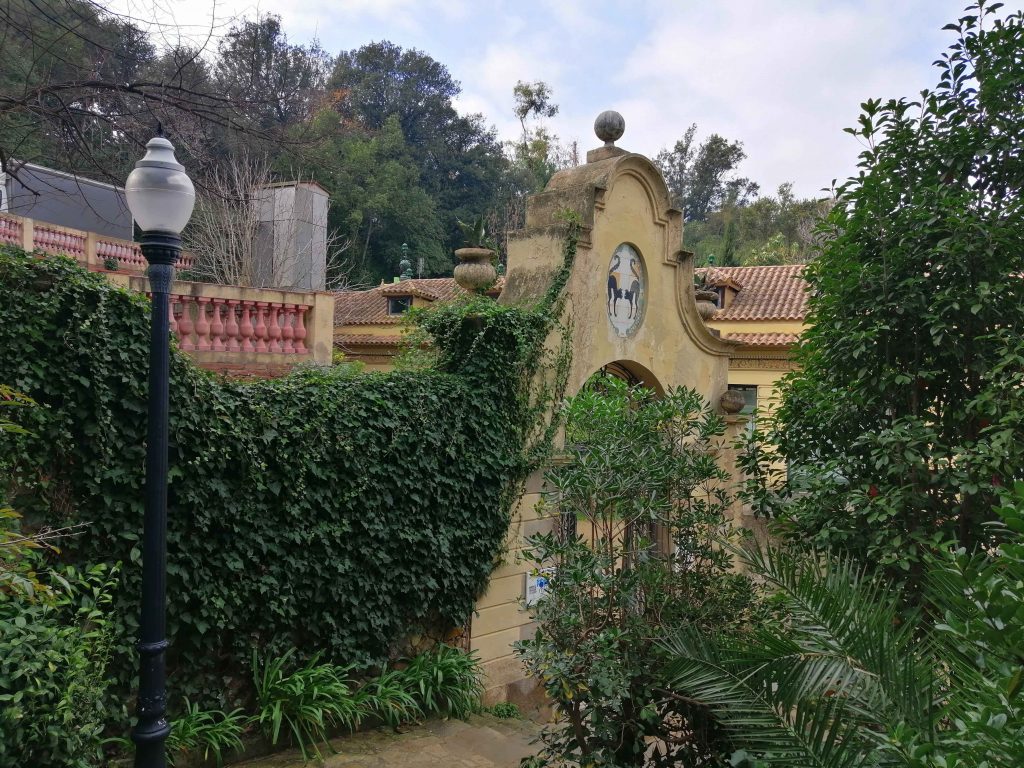 In most cultures, when we think of magic, we think of witches and sorcerers, and I'm sure you know Spain was famous for its witchcraft.
In fact, according to legend, in the same place where now you see the Cat's Fountain monument, witches used to gather and dance in a circle while singing songs.
Because of that, there are even some theories that claim that the origin of Sardana — the traditional Catalan dance — dates back to those dances the witches used to perform there before the 19th century.
2. Bring flowers to a famous spirit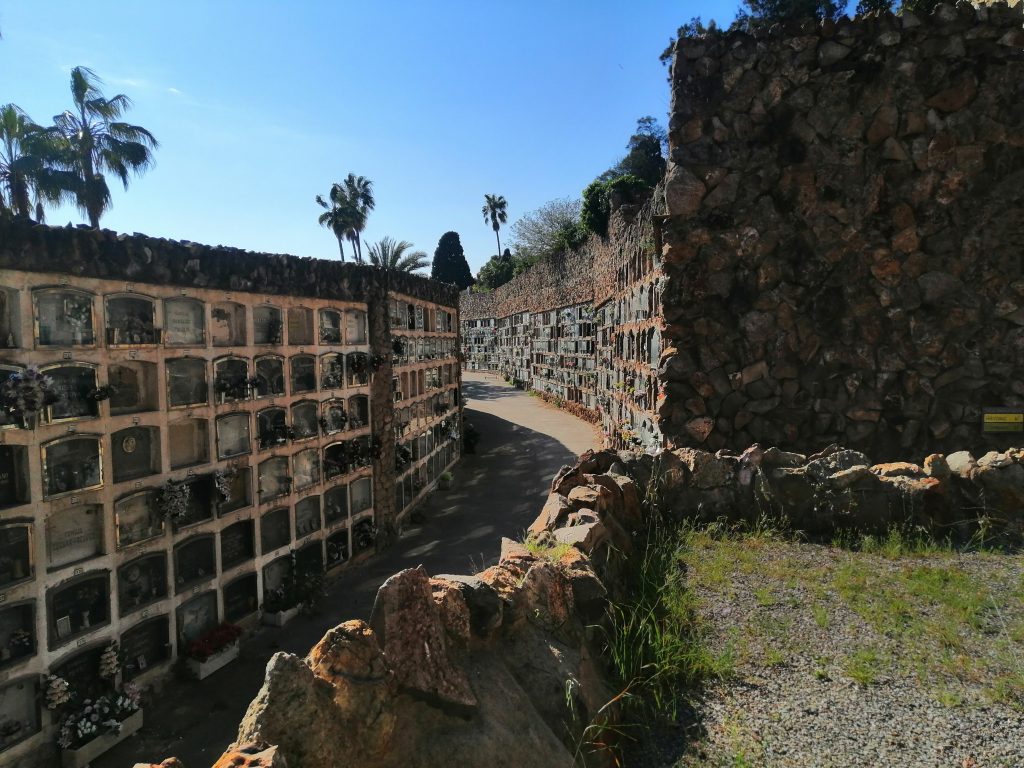 On the southern side of Motjuïc, there is a cemetery famous for its proximity to the seaside and its graves located on the hill's slopes.
In one of those graves, a famous woman is buried. It's Amalia Domingo, the founder of a feminist association, also known for supporting spiritualist theories.
Local lore: It is said that people who bring flowers to Amalia's tomb hear or feel paranormal activities. Would you dare bring flowers to her?
3. Hunt for statues in a former amusement park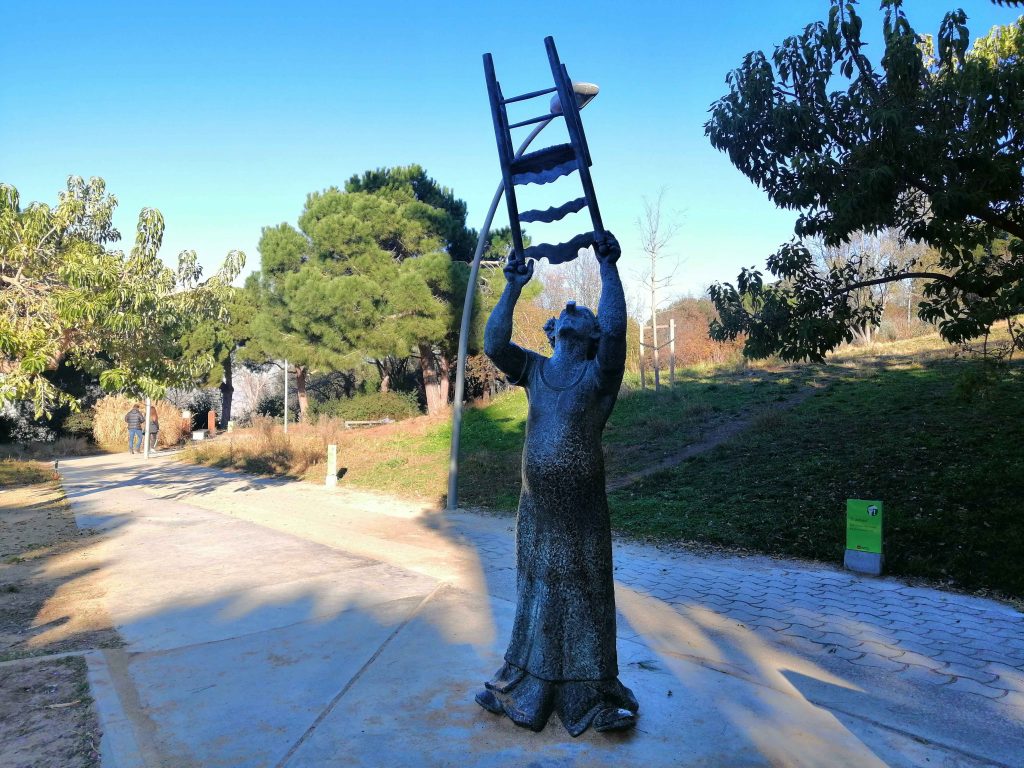 Montjuïc is a layered hill, one layer after the other that made the history of this magical place, pretty much like a cake that needs the cherry on top to be completed.
In this case, the cherry — or cherries — on top are the many statues we can glimpse in the Joan Brossa gardens. They have been there since the construction of the former amusement park located in this garden from 1966 to 1998.
Spot the statues: An Olympic gymnast, a flamenco dancer, a clown, a group of people dancing Sardana, and even Charlie Chaplin! Can you find all of them?
4. Strike a pose with a famous flamenco dancer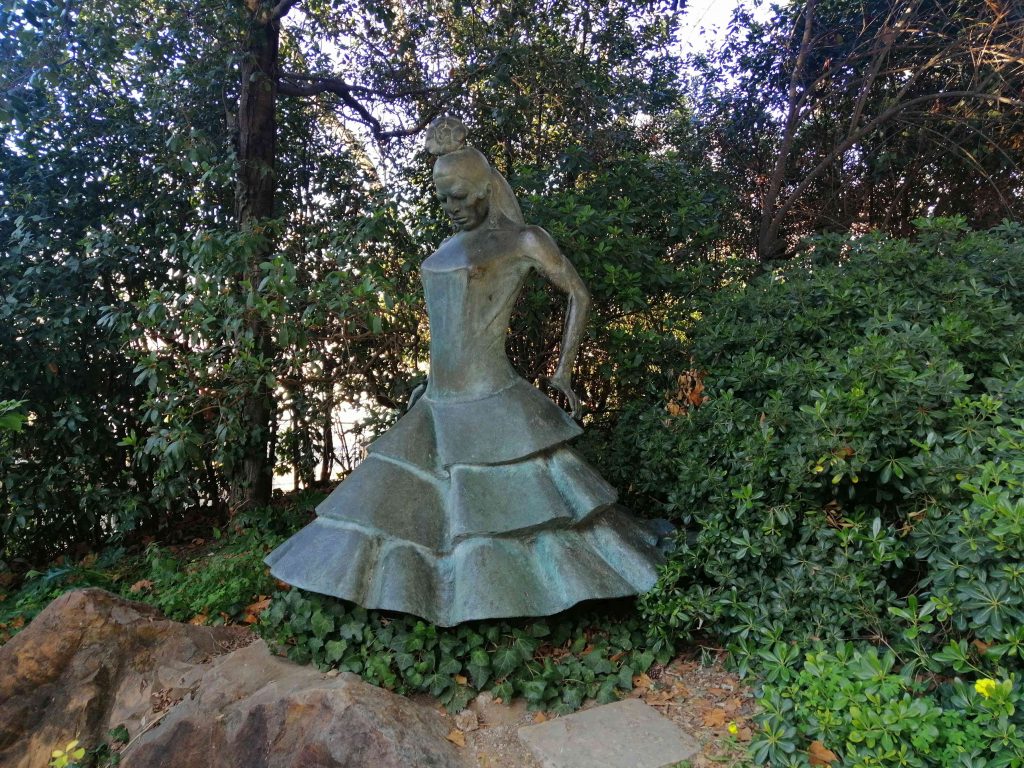 Did you find the flamenco dancer mentioned above? Then congratulations! You found the world-famous Carmen Amaya!
This Spanish woman, born in a shack on the Barcelona coast over a century ago, was the most famous flamenco dancer of her generation (or even of all time).
She began her career in Barcelona clubs and then started to perform in Spain first and South America afterwards. During the '40s she performed her flamenco shows all around the U.S., especially in New York where she even had more gigs than Frank Sinatra!
Don't forget to take a selfie with her!
5. Listen to the stories of this magical hill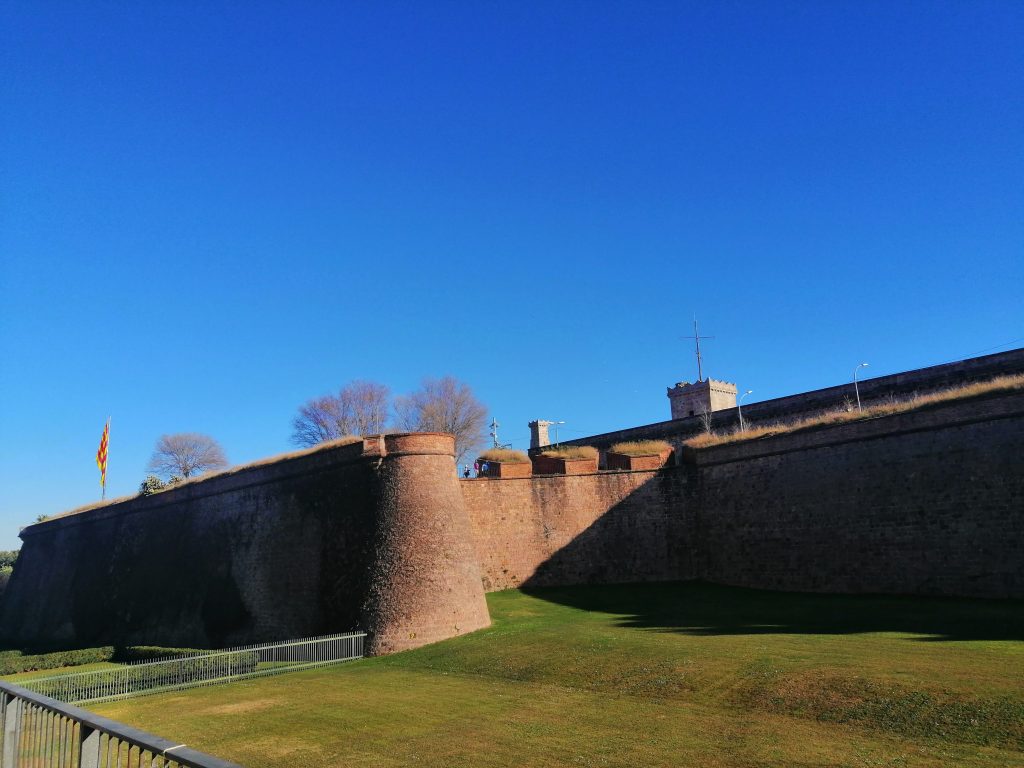 Would you like to know more about the magical characters of this hill? Are you wondering why this hill has been changing a lot over the decades?
Then take a walking tour with a local! Our Montjuic Walking Tour: The Magical Side of Barcelona starts just outside the Montjuïc Castle. From there, we'll walk down the hill until we reach Spain Square.
As we tour this green hill, you'll hear the curious legends about this magical place and you'll get to know some of the characters that helped with its many transformations. We'll also pass incredible landmarks, gorgeous gardens and striking architecture. Let's just say you'll have plenty of photos for Instagram at the end.
6. Fly in Barcelona skies
The terrain isn't too much of an upward climb, even though this is indeed a hill. But if you prefer, you can reach the top of Montjuïc even without walking, thanks to our cable car, AKA the Telefèric de Montjuïc.
This modern transportation was inaugurated as one of the attractions of the amusement park mentioned above. Despite the park's closure in 1998, the cable car still functions and is one of the most popular attractions among tourists.
7. Enjoy the Magic Fountain of Montjuïc's light show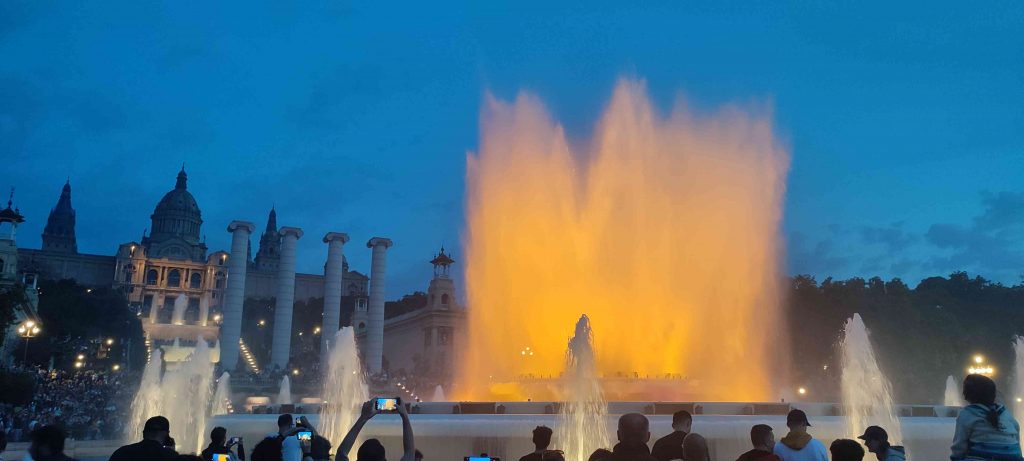 Is there anything in Montjuïc more enchanted than the Magic Fountain? I'm pretty sure there isn't.
This stunning fountain has been there since 1929 and now — after two year of closure due to COVID — it's finally living its heyday again.
Every night, starting at 8 or 9 p.m. (depending on the daily schedule) the fountain performs a colorful light show with background music.
8. Buy a ticket for a festival in an open-air theater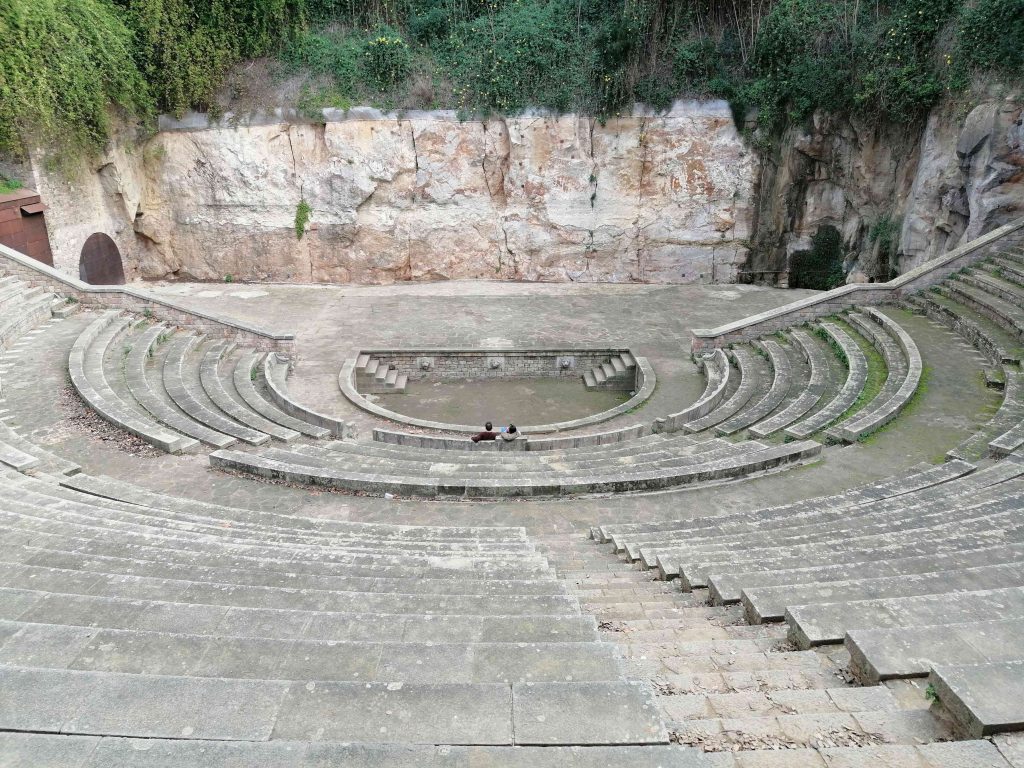 In the middle of this magical mountain — not so far from the Cat's Fountain — there is a theater named El Grec, although it's not Greek at all. It was built a century ago for the Universal Exposition and named like this due to its classical style.
Today the Greek Theater is a wonderful spot where you can go if you want to enjoy different kinds of shows during the summer.
Guide tip: Check the program for this summer on the official page.
9. Visit one of the biggest Barcelona museums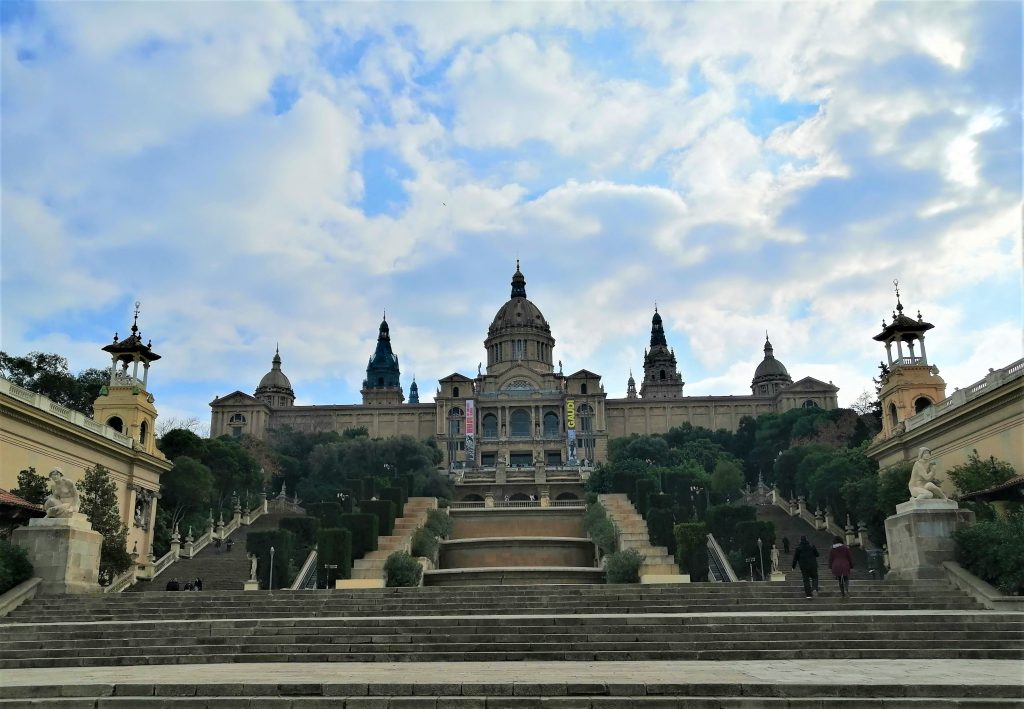 The neoclassical palace you see in the picture above — once the main building of the Universal Exposition — is now the Museum of Catalan Art, in other words, the biggest collection of local art you'll ever see.
In this museum, you can see many Catalan works of art, from the Middle Ages to Modernism, and you can even admire some furniture designed by Gaudí!
Guide tip: On Saturdays after 3 p.m., entrance is free.
10. Admire Barcelona's seaside from spectacular viewpoints
Barcelona is full of stunning viewpoints that you can enjoy from several strategic spots. But Montjuïc has a truly privileged view. From here, you can see most of the seaside, the harbor, the Tibidabo hill and even the Sagrada Família, depending on where you're standing.
Here is a small list of the best Montjuïc viewpoints:
Mirador del Alcalde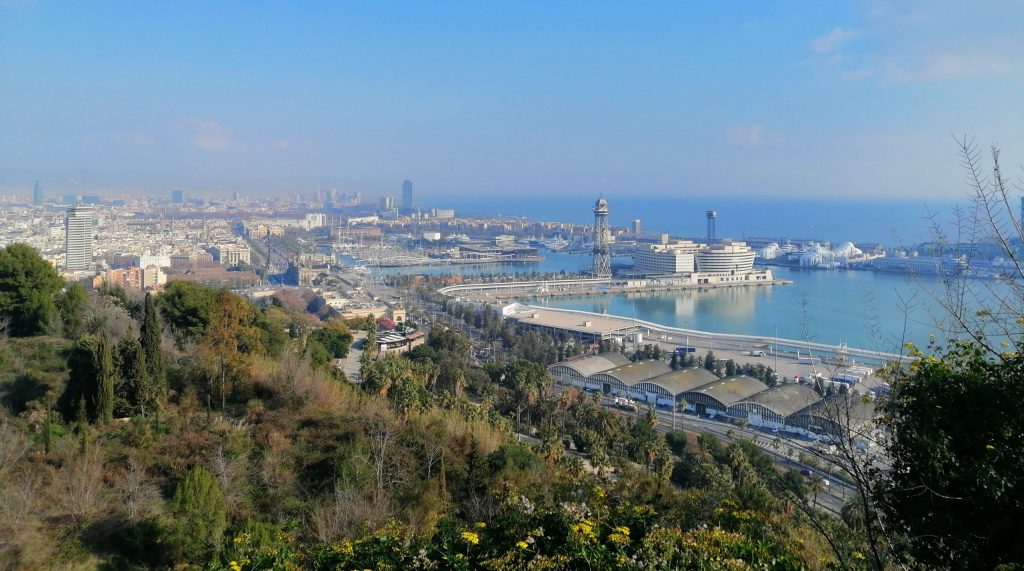 A beautiful viewpoint, from which you can admire most of Barcelona's seaside.
Laribal Gardens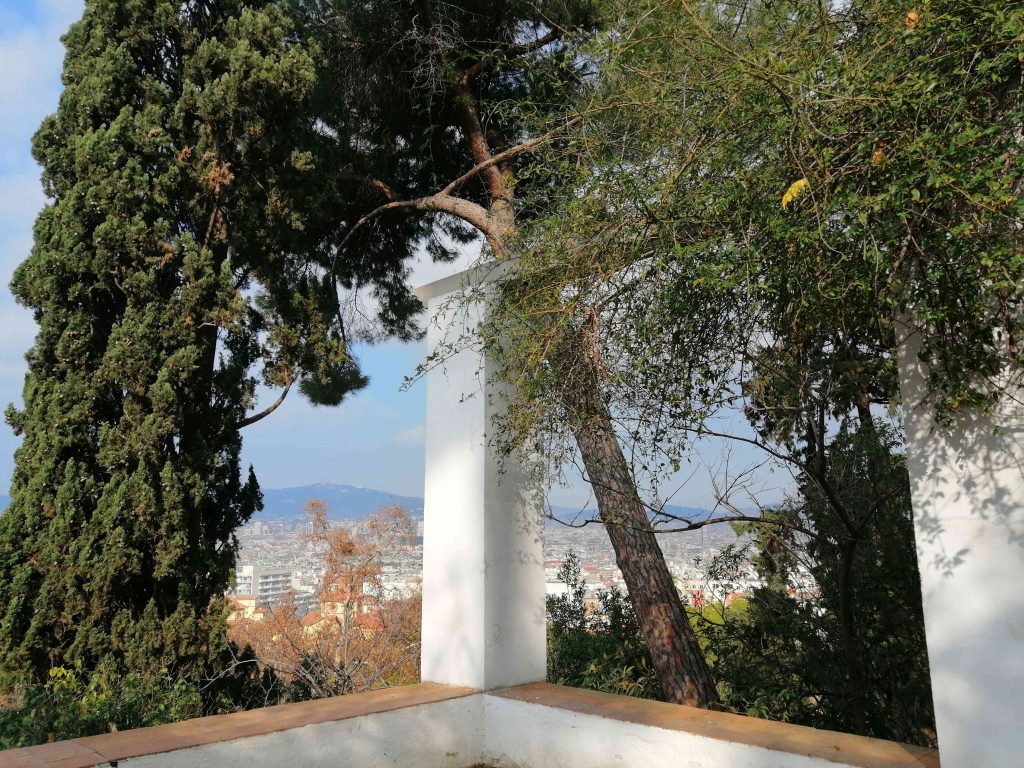 From a strategic point of Laribal Gardens — while heading to the Cat's Fountain mentioned above — you can enjoy the view of the entire city at your feet.
Montjuïc Castle
The must-see of this magical city is Montjuïc Castle. This Barcelona castle built back in the 17th century is now open to tourists. It offers a great view from the highest point of the hill.
On Sunday after 3 p.m., entrance to the castle is free!
Poble Espanyol
Translated as the Spanish Village, the Poble Espanyol is like a mini version of Spain itself.
Salts Bar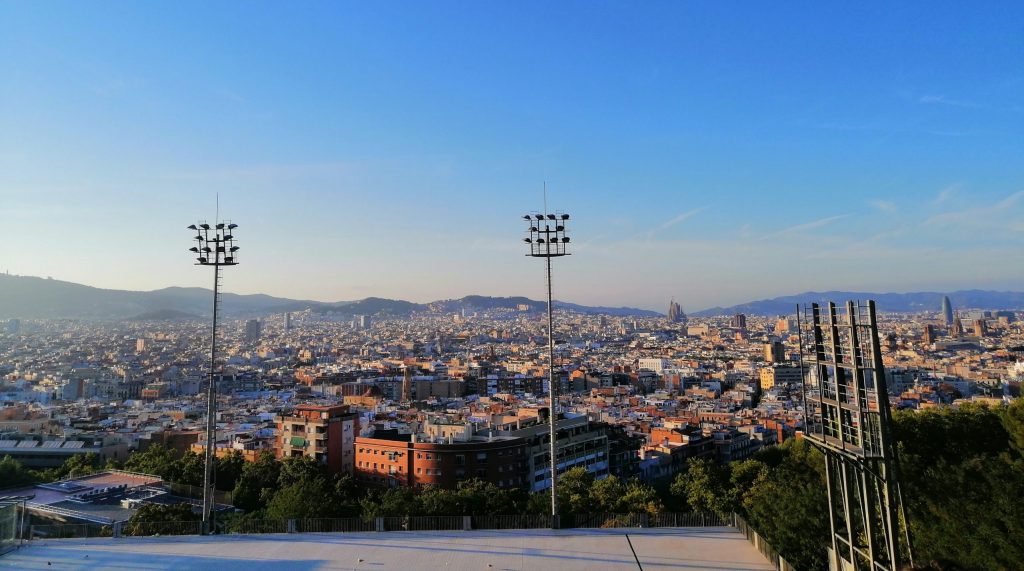 Salts Bar is an inexpensive bar with a view of Barcelona and a plunge pool built for the 1992 Olympic Games.
All the magic of Montjuïc
Those are just a few of the most magical places in Montjuïc, but there are more! Come discover this Barcelona hill with a local tour guide, and we'll show you the hidden and less touristy spots of this Barcelona hill that once hosted dancers, witches, and other extraordinary figures from the city's storied past.
Join the magic and make a memory you'll never forget.