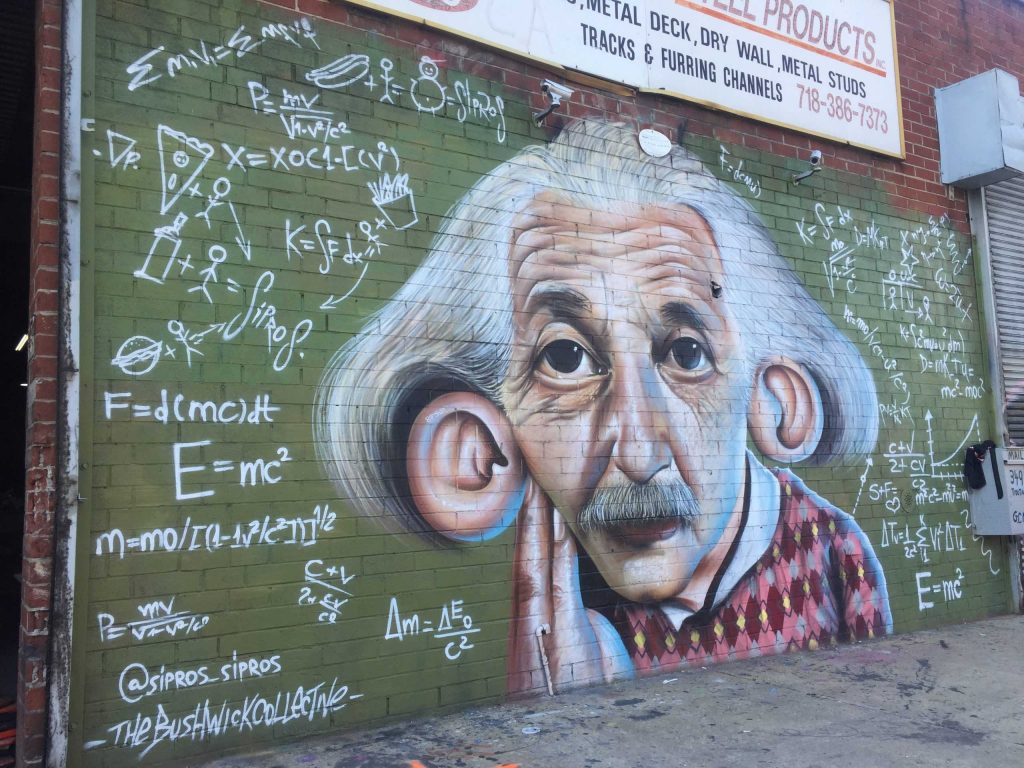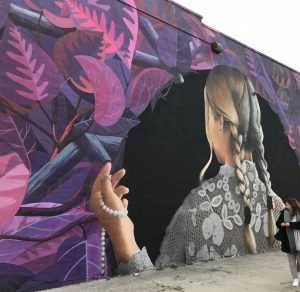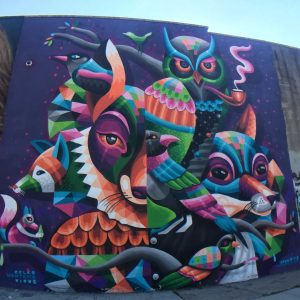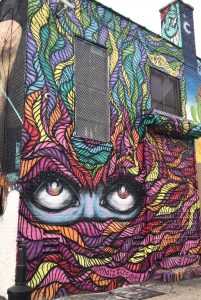 You can't spell New York without art. One thing that will definitely catch your eye while walking around the streets of NYC is the #streetart. There are graffiti and murals everywhere – walls, homes, overs doors, closed shutters of shops, lamp posts, subways, everywhere. Now that I think about it, I don't think I've ever seen a plain wall in this city. The best part though is that the art is forever changing so everyday is a pleasant surprise. The best way to explore New York is by foot. You'll come across the most amazing sights.
So you're in the city for a few days and you're thinking, is the street art really worth my time! Hell yesss! And to make your life easy and to make optimum use of your time I have planned a one day self-guided graffiti tour from Brooklyn to Manhattan while checking out some of the coolest neighborhoods in New York and on just one train line (The L train). You're welcome!
Stop #1: Bushwick Collective (Brooklyn) – It's different every time you visit and it only gets bigger and better (the 3 images below are of the same wall from 2016-2018)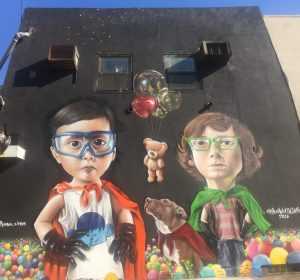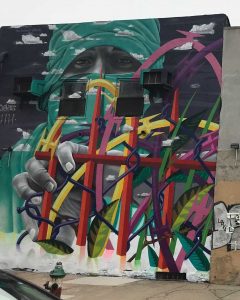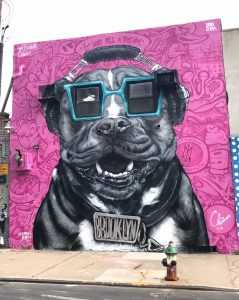 Hop on the L train and make your way to Jefferson St Subway station in Brooklyn ! Before you start anything, stop for a quick bite at Queen of Falafel. Follow the direction of the traffic down Jefferson St. Look left, look right, don't blink! Turn right on Jefferson St and St Nicholas Avenue. Keep looking. Next stop – the junction of St Nicholas Avenue and Troutman St. Welcome to the home of Bushwick Collective. Some of the most amazing street artists have marked their territory on these walls. Follow the direction of the traffic down Troutman St to experience some more. Make your way back to Jefferson St Station.
Stop #2: Williamsburg – Navin Shakeel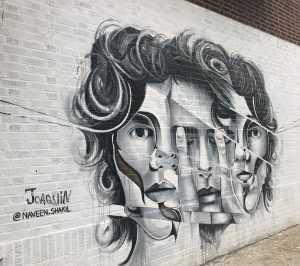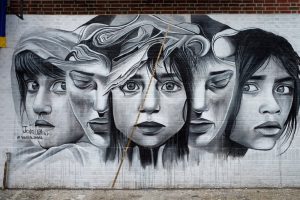 Hop on the Manhattan bound L train to Bedford Avenue in Williamsburg. Start walking on Bedford Avenue towards 2nd Avenue. Not only have you reached a beautiful mural by Navin Shakeel but you've also just walked down the heart of Williamsburg. Find the best restaurants, breweries and bars in this area. Bonus Tip: Every Saturday from Spring to Fall, you can visit Smorgasbusrg in Williamsburg for some food porn and more.
Stop # 3: East Village – Michael Jackson by Kobra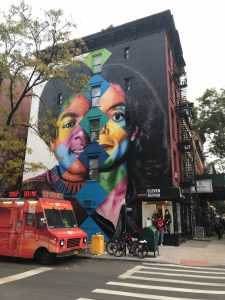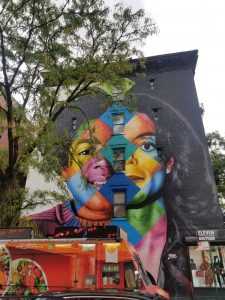 Make you way back to Bedford Station and hop back on the Manhattan bound L train. The next mural is just one stop away and trust me, this one will blow your mind. At the corner of 11st Street and 1st Avenue is a tribute to the late Michael Jackson. Kobra has used his signature kaleidoscope mural depicting the King of Pop as a child and adult.
Stop # 4: The High line
New Yorkers are obsessed with the High Line for just one reason, ART! The art pieces here are forever changing so you'll always have some new art to discover. To get to the high line, jump back on the 8th Avenue bound L train, rest your legs for a little while and get off on 8th Avenue. Walk straight down to 10th Avenue to find your way up to the High Line. There are lots of interesting murals and art installations along the way but the biggest one can be found adjacent to 22nd Street. Currently, Dorothy Iannone presents her first public artwork in the form of a mural depicting three colorful Statues of Liberty.
Stop # 5: Chelsea – Kobra's Mother Teresa and Mahatma Gandhi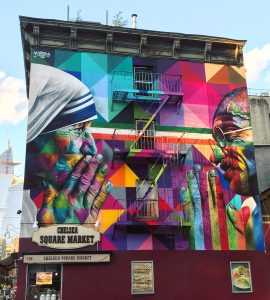 As you take a stroll on the High Line, keep your eyes peeled for a sudden burst of color. OR for a closer look, head straight to 18th Street and 10th Avenue. The three-story image features the profiles of Mother Teresa and Mahatma Gandhi, facing each other in a tribute to their roles as two of the world's greatest humanitarians.
This is where our day trip ends but if you are like me and need more, here are some
Bonus Tips:
For more murals by Kobra, make your way to Forsyth Street and Rivington Street. The massive mural, 27 Club features musicians such as Janis Joplin, Kurt Cobain, Jim Morrison, Jimi Hendrix and Amy Winehouse who died at age 27, most often as a result of drug abuse and suicide.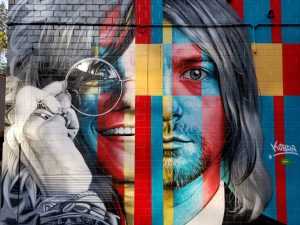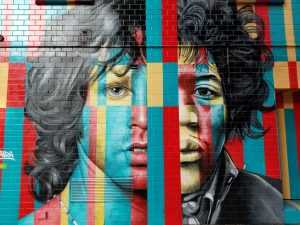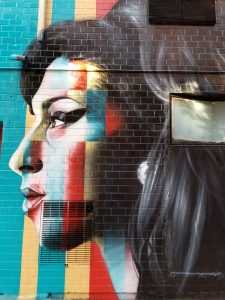 (Photo Credit: Julie Castillo Lopez)
Another one of Kobra's creations can be found on the intersection of Thompson and Watts street in Soho. A colorful mural of Statue of Liberty wearing a sombrero.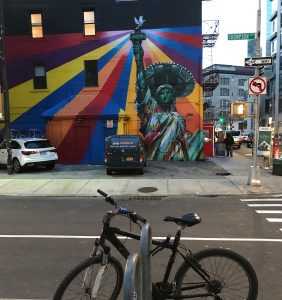 The Tiger street art mural on Lafayette St. in Soho by Sonny Sundancer is also worth a visit.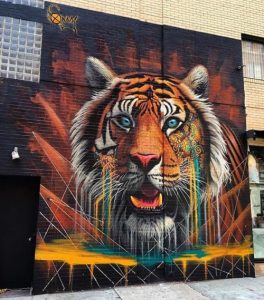 The Bowery wall on Houston street is also forever changing. This wall has been a blank canvas for a rotation of renowned artists since the 1980's. The closest subway station is 2nd Avenue on the F line but the Broadway-Lafayette station (B/D/F/M/6) is also a short walk west down Houston Street.
Another area worth a mention is the new bright cluster of murals right next to the Oculus. A group of street artists transformed the World Trade Center with eye-catching, fun, and uplifting murals to counterbalance the otherwise somber atmosphere.