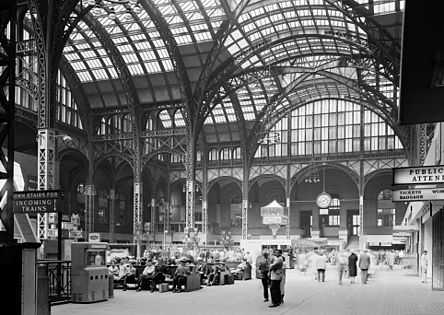 Located at 8th Avenue and West 31st Street, Penn Station is a major transportation hub as well as an NYC landmark.
The Pennsylvania Railroad (PRR) built the first Pennsylvania Station, which opened to the public in 1910. Architects McKim, Mead & White designed it in the Beaux-Arts style, inspired by the Baths of Caracella in Rome.
The original Penn Station occupied two city blocks and featured, according to the New York Preservation Project, "an ornate exterior, arcade, waiting room, concourse and carriage-ways." The writer Thomas Wolfe also noted that it had "Nine acres of travertine and granite, 84 Doric columns, a vaulted concourse of extravagant, weighty grandeur, classical splendor modeled after royal Roman baths, rich detail in solid stone, and an architectural quality in precious materials that set the stamp of excellence on a city."
In 1963, however, Penn Station was razed, and was replaced by Madison Square Garden. When the building was destroyed, art historian Vincent Scully famously said, "One entered the city like a god. One scuttles in now like a rat." The event was also considered the inspiration of The Landmarks Law.
Now, Penn Station is completely underground. You can catch several subway lines, the Long Island Railroad, PATH trains, and Amtrak, among others.