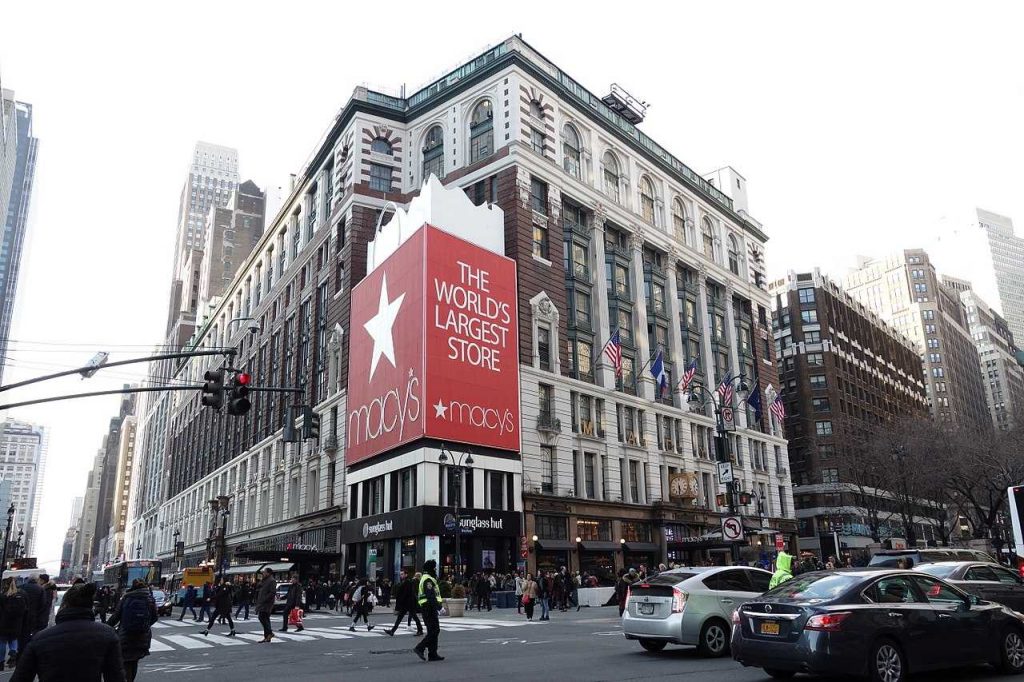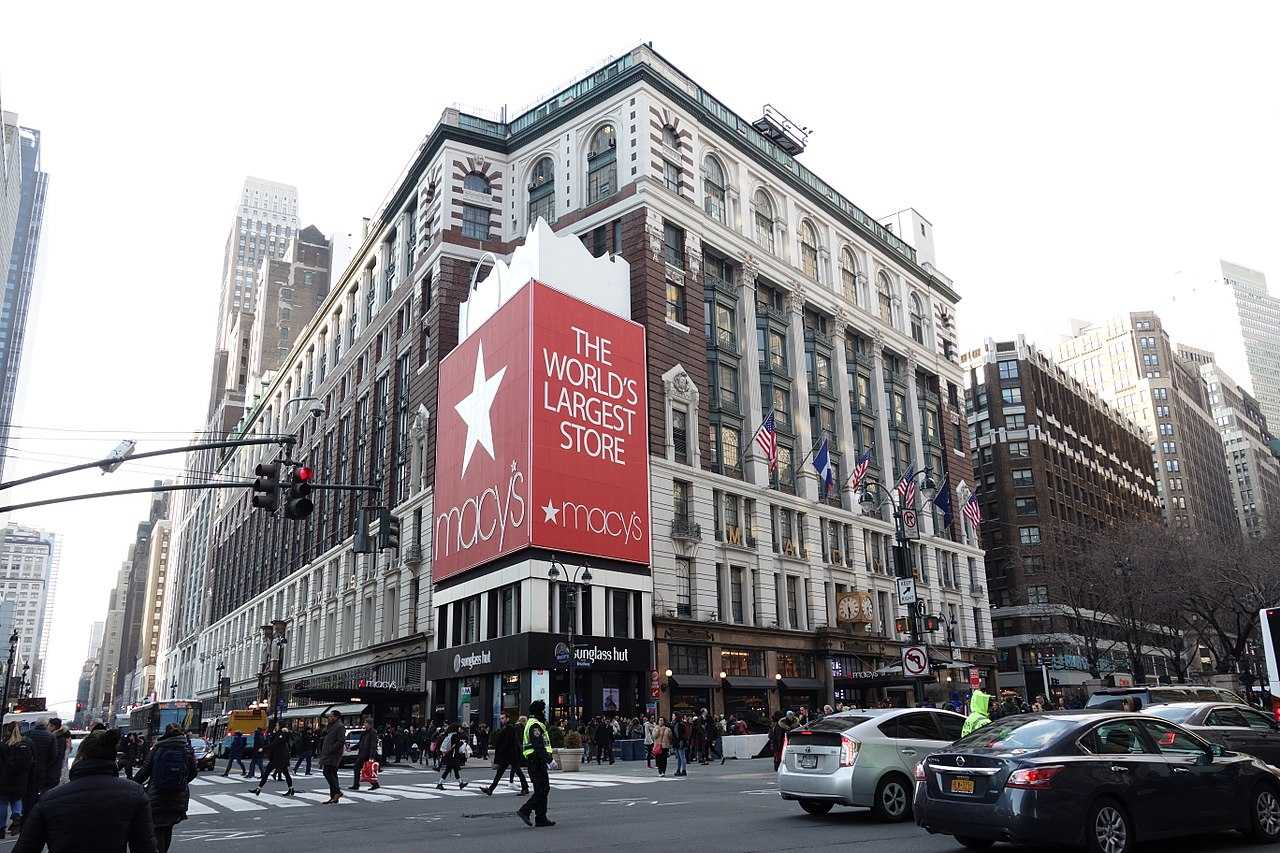 Macy's is one of the most well known department stores in the world and its flagship location is held in NYC at Herald Square. The iconic store covers nearly an entire New York City block and features about 1.1 million square feet in retail space making it the largest department store in the world.
While it's especially known for its shopping, there's so much more to this famous store than most people know. I've written this post to teach you some fun facts and give you some shopping tips to make your visit there as enjoyable as can be.
NYC is known for having some of the best food in the world. Did you know, some of those dining experiences can be found right here at Macy's? Read below to find out more.
---
Tip: For some other great shopping tips, look at our Shopping Bucket List: NYC Guide
---
How to Find It?
The address is 151 W 34th St, New York, NY 10001 at Herald Square.
You can take:
1,2,3 (red line) to 34th St.
A,C,E (blue line) to 34th St. and Penn Station then walk one block east.
the N, Q, R and B, D, F, V will stop at 34th street Herald Square.
The iconic sign is visible on the corner of 34th st. and Broadway.
---
Tip: To learn more about how to use the subways, you must read How to Buy and Choose Your Metrocard: NYC Guide for all the info you need to help you ride the subway during your visit.
Herald Square isn't too far away from Times Square where one of our most popular tours begins. Take the 1 Day 6 Hr Tour and learn how to ride the subway with your tour guide and immerse yourself with knowledge about many of the most iconic landmarks throughout the city.
---
Store Highlights
You can't mention Macy's without bringing up the Macy's Thanksgiving Parade. It all started in 1924 and was actually called the Macy's Christmas Parade even though it took place on Thanksgiving. However, somebody came to their good senses and in 1934, it was re-titled to Macy's Thanksgiving Parade and has stayed a NYC tradition ever since.
Now, all of the floats, bands and everyone who participates finishes the parade in Herald Square right in front of the famous store.
Macy's is the holy mecca for shoe lovers. In 2012, Macy's unveiled the world's largest shoe floor creating the most selling space devoted exclusively to footwear. There are over 300,000 pair of shoes on sale everyday and the store feature floor to ceiling clearance closets to offer incentives for people to shop there.
Did you know that Macy's was the very first building in the world to feature modern day escalators? Unlike the moving stairs you're familiar with, these were actually made of wood. They were built in 1902, unfortunately most of them have been replaced since then. However, there are still several operating. The most popular ones can be found on the 6th floor, where there's a lovely set of 4 escalators to geek out the most nostalgic lovers out there.
Shopping Tips
Pull up their website https://www.visitmacysusa.com/ and you can find a visitors pass that you can print out or present on your phone. This will allow you to get 10% on one of their stores.
You can also find the visitors pass at the visitors desk on the balcony level as well.
I recommend the best time to visit is on weekdays before lunchtime to beat the crowds. The store is overwhelming enough, you don't want to do it with thousands of others shoppers getting in your way.
With that being said, try avoiding the lower floors if you can, they tend to be a lot more crowded that the upper floors.
If you want to shop more comfortably, there's a coat and baggage check at the Visitor Information Center on the Mezzanine Level. You can drop off your heavy winter clothing or any bags you're carrying with you so you can shop without much hassle.
If you aren't from around NYC, luggage bags already too full. Ask the cashier and you can have all your purchases shipped to your house for free, isn't that nice.
---
Tip: For some other great shopping tips in NYC make sure to read Best Places for Shopping
---
Looking for More
When most people visit a new city, they love to take tours and learn more about their new surroundings. Macy's like many famous landmarks and attractions actually offers two walking tours in their flagship store.
The first one is their Macy's History Tour, a 45 minute guided tour where you'll learn about the store's rich history and other fun facts. It costs $12 and requires a minimum of 10 guests for the tour to operate.
Then, there's also their Retail 101 Tour. Over the course of 60 minutes, you'll learn about marketing concepts, merchandising and visual techniques and how its 4 year $400 million renovations created an even better shopper's paradise.
If you really love coffee and really love it from Starbucks, no need to worry. In fact you might need to worry about getting sick of Starbucks if you are shopping at Macy's. There's actually 5 different starbucks, one on practically every other floor.
On top of that, Starbucks even owns a champagne bar found near the women's shoe department.
You wouldn't think of Macy's as a destination for fine dining in NYC, but in fact, this store offers some of the most underrated food locations in the entire city. Macy's has partnered themselves with star chefs and popular eateries to provide both quick bite options and fine dining experiences as well.
One of the must see experiences you have to explore is to visit the De Gusitbus Cooking School by Miele. It's more than just a typical cooking school. It's more like an upscale culinary theater that allows you to be up close and personal with some of the most celebrated chefs in the food industry.
If you consider yourself a foodie, you have to try this out. Not only will you hang out with other food connoisseurs, but have the opportunity to learn a thing or two to take your kitchen skills to another level.
I hope you took some things away from this post, however, many of the suggestions I wrote are just the tip of the iceberg. There's plenty more fantastic experiences and shopping tips you can discover on your own. This post will hopefully inspire you to enjoy your visit and give you some fun tidbits to help you see why this store is so special.
---
Also, take a look at our Facebook and Instagram pages for all our latest posts and pictures