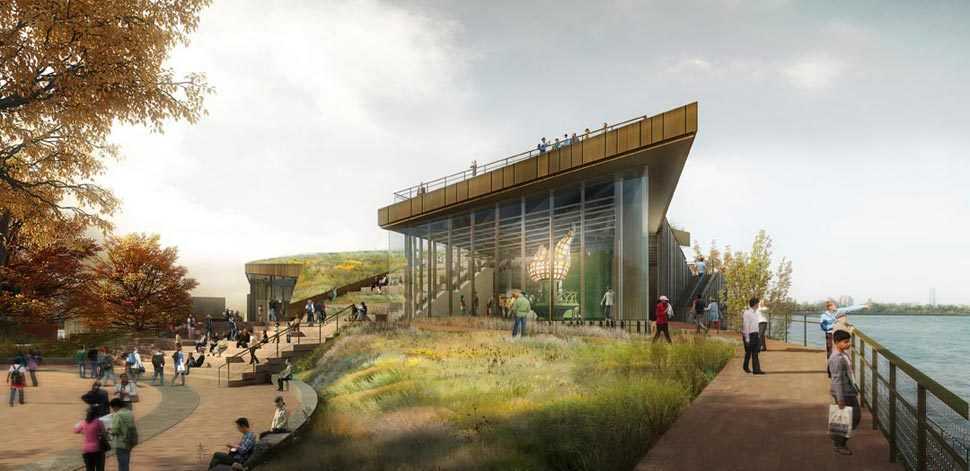 Scheduled to open in May of 2019, the Statue of Liberty is opening a brand new museum to create an exciting and even more engaging experience than ever before.
Over 4 million visitors from around the world make their way to see this iconic landmark every year. Sadly, 80% of these visitors are unable to enter the historic pedestal that Lady Liberty stands on and have the opportunity to visit the Statue of Liberty Museum. Due to security measures resulting in visitor quotas each day, those visitors miss out on the chance to interact with and explore the collection of educational exhibits held inside. Most guests don't realize that there are different Statue of Liberty ticket options and each one provides access to different areas. Starting this year, the new Statue of Liberty Museum will allow access for all guests and do away with many restrictive clearances.
The architects of the museum wanted to ensure that their building demonstrates environmentally responsible design and high levels of sustainability. The museum will feature a green roof-scape, bird-glass exteriors and material reused from the existing Administrative Building. In the aftermath of Hurricane Sandy, it is built above 500-year old flood levels and has the strength to withstand hurricane force winds. The building and landscape is also designed to treat stormwater runoff and create a healthy habitat for plants and animals.
Museum Galleries
The museum will contain three interactive galleries intended to inspire and educate visitors in thought provoking ways.
Immersive Theater
In this multimedia theater space, museum-goers will enjoy experiencing a captivating 8-10 minute video with a visual fly-through ascending the Statue, recreating interior views and sounds, as well as learning about the sweeping story of its history and ideals she represents.
Engagement Theater
A series of multimedia displays will allow guests to see a step-by-step process of Lady Liberty's construction to experience what it felt like to be in the warehouse where master architect Frederick Auguste Bartholdi built the Statue.
Inspiration Gallery
This space is intended for guests to reflect upon what they've seen and experienced in the museum. There will be interactive displays for guests to document their visit and add a self portrait and collage of inspirational images. The climax of the tour will end with an up-close view of Liberty's most iconic symbol – her original torch. It held high for nearly 100 years before being replaced in 1986. A model of the statue's face will be inside the gallery offering a major highlight as well glass walls that display magnificent views of the Statue of Liberty herself and the New York City skyline.
The new Statue of Liberty Museum will showcase state of the arts exhibits and a significant collection of cultural arts. It will foster a greater sense of inclusion by making it accessible to all visitors, as well as making it available to those with physical limitations. With this new, astonishing venue, the people who collaborated on these efforts wish it will continue to provide what the Statue of Liberty was intended to all along and keep inspiring hope for many generations to come.
You can read more about the history of the Statue of Liberty, however, for an even more memorable experience, join the top rated Statue of Liberty Tour with one of our experienced guides.