Pretty in… White. 5 reasons to visit Paris in the Winter!
Paris has long been lauded as the most beautiful city in the world, and the mere sight of her will make you believe it, but you know what intensifies her beauty and charm? Winter!
I am going to share some of the reasons I believe she is an absolute stunner in the winter, and  why a visit in the off months is a fabulous idea! 😉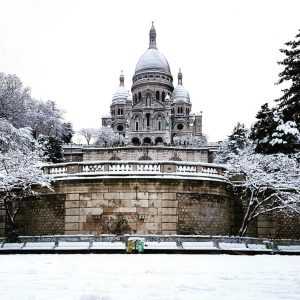 It's gorgeous! They say beauty is in the eye of the beholder, and believe you me, Paris is somewhere you want to see under a fresh blanket of snow. The crisp, sparkly, clean snow just adds another layer of magic to this already gorgeous city. Plus, how cool does it sound to build a snowman by the Eiffel Tower, be the first to lay footprints by Sacre Coeur, or make Snow Angels by the Notre Dames Cathedral? And when it's not snowing there's a lot of drizzle, which is great because she shines but remember votre parapluie (your umbrella!)

Eiffel Tower under a blanket of snow.

Better deals and shorter queues! This alone should be a reason to run on over, or actually, fly, because flights are wicked affordable this time of year. Paris in the winter means shorter queues The wait time for the most visited landmarks in Paris – The Eiffel Tower and The Louvre for example – drops from 3 hours to 30 minutes or less on the busiest day!
Comfort Food! French cuisine, need I say more? French cuisine is all seasonal, serving up what is freshest for the specific time of year, and it doesn't get any better than winter comfort food from Beef Bourguignon, to French Onion soup… and have you tried Raclette yet?? It is literally cheesy, gooey, yummy, MAGIC!
Fashion!! Now this one might surprise you because winter usually means being bundled up like that scene in A Christmas Story right? But not in Paris it doesn't! In Paris, Winter means sleek knee high boots, the cutest wool coats, and the most flattering leggings you own get to come out and play. So go ahead, step out into the cold, and do it for the 'gram!
And last but not least, winter activities! There are wine tastings and Ice Skating on some of the most iconic sights, like the top of the Grand Arche at La Defense or Palais Royal. Winter in Paris isn't just beautiful, it is also so much fun!


Written by Arlyne for Paris Tour1