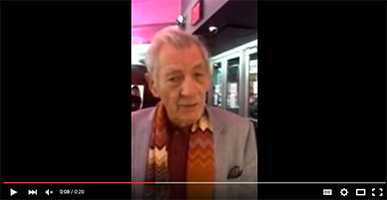 Written by Rachel Mckinney (https://www.rachelmckinney.com)
With Love, New York: Sir. Get Rowdy!
Life works in mysterious ways.
Tonight I had the opportunity to watch a special screening of Mr. Holmes with a Q&A afterwards with none other than Sir Ian McKellen at the IFC Center in Greenwich Village.
I know, I know, pretty amazing, right?!
I was so excited about the screening… that I wrote down the WRONG address. Which is ironic, because the location of this iconic venue is engraved in my mind. Not only is it the launching pad for the cult classic "The Rocky Horror Picture Show" and a haven to watch independent film, but it is also part of my Greenwich Village tour.
So when I realized my mistake, my best friend, Noel, and I raced down the busy NYC sidewalks like crazy people in hopes to arrive in time, because of course there was limited seating in this screening.
Fortunately, there is magic in this world.
We ended up arriving with more than enough time AND we grabbed perfect seats!
As we sat in the darkness of the theater watching trailers of past screenings, we strike up a conversation with the guys next to us. They are FILMS NERDS, and this makes me blissfully happy. I love films, I do. I am passionate about them. But occasionally I will meet someone, like these guys, who know EVERY single aspect of a film down to the most minute detail. And their knowledge and zeal and desire to share these details with us, well, let's just say I LOVE these guys.
They bought the large refillable soda and popcorn. At this point, we still have 20 minutes before the film starts, and their stash is already half way gone.
I told them, "I'm impressed, but a bit disappointed."
ISAIAH: That we've eaten so much?
ME: Nope, that you haven't polished it off yet and gone for more. I mean it's FREE REFILLS. Hellooooo!!!
We all giggle.
Now another boy has dramatically arrived. He reminds me a lot of Alan Cumming and we banter back and forth about how "we hate it when people arrive late and make grand entrances." I'm in love with him too.
It's so nice to be in a room full of people who LOVE film and LOVE Ian, and have come to enjoy this momentous event.
Mr. Holmes is an incredible film and is directed by the skillful hands of Bill Condon, written by Jeffery Hatcher, Mitch Cullin and some obscure guy named Sir Arthur Conan Doyle.
If you love Sherlock Holmes, watch it.
Now for the Q&A…
Ian appears and the whole room stands up with thunderous applause. I mean, how could we not? The man has played BOTH Gandolf and Magneto, and countless other incredible roles. From the moment he sat down, I am smitten.
There's this childlike quality about him. He's like a never-ending sparkler on a glorious summer day. The whole audience is completely spellbound by this enchanting gentleman. He shares with us stories about making the film. And then he shared personal stories, like how he fell in love with acting. He saw a production of Peter Pan as a kid, and although he could "see the shoddy wires holding the actor in the air," he was hooked. And then he shared stories about working with Maggie Smith. My heart skipped a beat here. Because the idea of being in the same room with BOTH Ian AND Maggie… let's be honest, I'd faint in delight.
And then his people walk down the isle giving Ian the "we have time for one more question" signal.
He nodded and answered the final question.
IAN: "I could stay here all night."
And then proceeded to continue to answer MORE questions!
When he was finished with the Q&A, his people tried ushering Ian out the back of the theater to avoid the crowd, but instead Ian chose to walk out the front entrance.
At this point, Noel and I needed to run to the restroom, and as we walk out of the theater, I notice that Ian has stopped to talk to people in the lobby. We both wanted to stay, but unfortunately, our bladders had a different idea.
Noel and I promised each other, "If he's still in the lobby when we get back, we'll wait and see if we can talk with him."
When we arrived back in the lobby, to our sheer delight Ian was still in the lobby and the crowd had dissipated.
It was fun to watch him interact with his fans. What struck me the most is that he approached everyone as his friend, rather than a stranger. He gave them time and asked them about themselves. He genuinely reveled in these interactions. And everyone waited patiently for their turn.
While we waited, Noel and I figured we would talk to him about our friend Rowdy.Rowdy is a damn good AD (Assistant Director on film) and LOVES actors. I mean LOVES them. Rowdy is also one of the kindest people on the planet, and only wants the best for everyone. He mentioned to us today that he was having a particularly hard day at work.
ROWDY: "I'm so fortunate that Shannon (his wife) and my mom are sending me words of love and encouragement."
So we figured if we could talk with Sir Ian, we would ask him if he would be open to filming a message to Rowdy to cheer him up.
AND HE DID!
It was like straight out of a movie.
Noel is a director and shared with Ian the scenario.
I am the one who filmed the message, so I apologize for any shaky camera work. (I was a little nervous.)
I love this little video. Here are my Five Top Reasons why.
5. Sir Ian McKellen has the "yes, and…" attitude and came to play.
4. The whole room stopped what they were doing and became completely silent (without us even asking), to allow us to pull this off for our friend.
3. When I realized we were in too dark of a corner to film, without skipping a beat, Ian suggested we used the concession stand as a fill light!
2. We got Ian to tell Rowdy to "Get Rowdy," which is Rowdy's way of telling you he loves you.
1. I realize as we're filming, Sir Ian is reacting to my giddiness, which "technically" in actor terms means we're "acting" in a scene together. I know this is a HUGE stretch, but I mean, come on! #AnyActorsDreamFulfilled
The video is posted below.
And if you are feeling blue, give yourself the nickname of Rowdy for the moment, so it feels like Sir Ian is speaking directly to you. I have a feeling both these gentlemen, Ian and Rowdy, wouldn't mind.
With Love,
Rachel
Written by Rachel McKinney
Copyright © Rachel McKinney All Rights Reserved