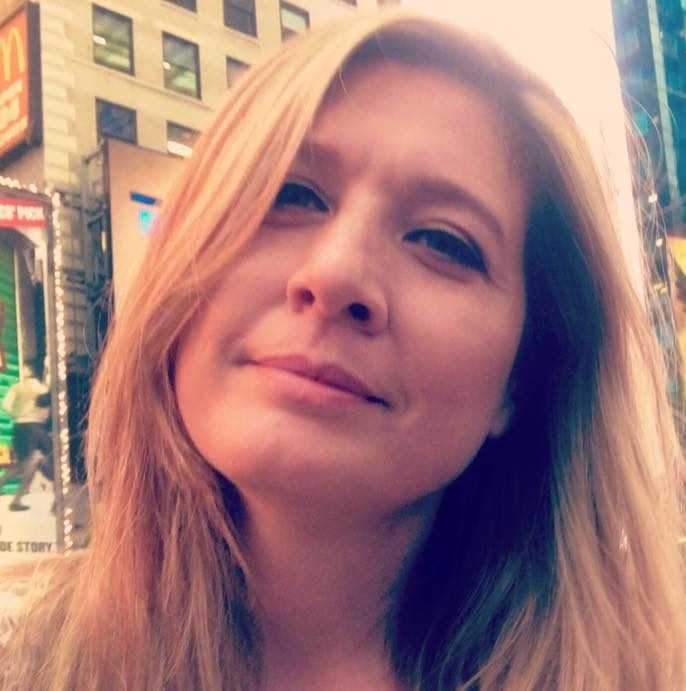 When I joined New York Tour1 in 2014, I had no idea how much I would fall in love with being a tour guide, my company, or learning and sharing the history of this city. I've trained on almost all the tours: Statue of Liberty, Ellis Island, 9/11, Wall Street, Greenwich Village, Chelsea, High Line, Meatpacking District, SoHo, Little Italy, Chinatown, One-Day, and custom private tours. Phew!
I'm also an actor (RachelMcKinney.com), writer (WithLoveNY.com), producer (RoaNProductions.com), and tech entrepreneur.
Questions:
1. What's your favorite spot in New York City?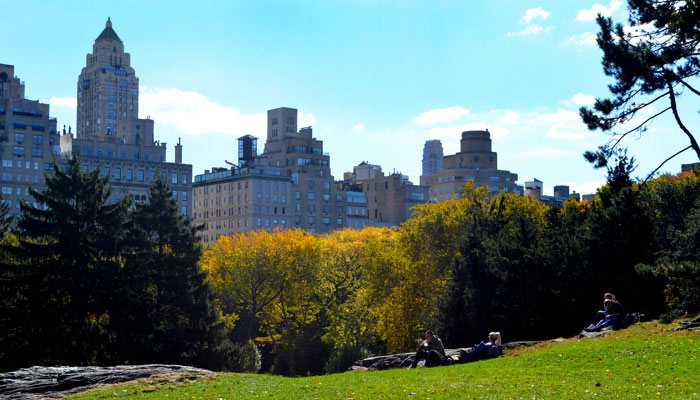 Oh! This is a really hard question to answer. I have so many favorites for different reasons. Ahhhh! How to choose? How to choose?! How to choose?!!!
I have to say I love the Great Lawn in Central Park. This is my first "favorite" when I moved to The City.
There is something quintessential about having a picnic in the middle of The City in this magnificent and magical park and watch people play Frisbee with their children, artists perform avant-garde Shakespearean plays, locals walk their cats and turtles on leashes (yes, you read that right), raccoons appear at sunset to forage for their dinner, and all of this unfolds in front of your eyes while you drink a bottle of wine wrapped in a brown paper bag with your friends.
2. New Yorkers: What makes you a real New Yorker?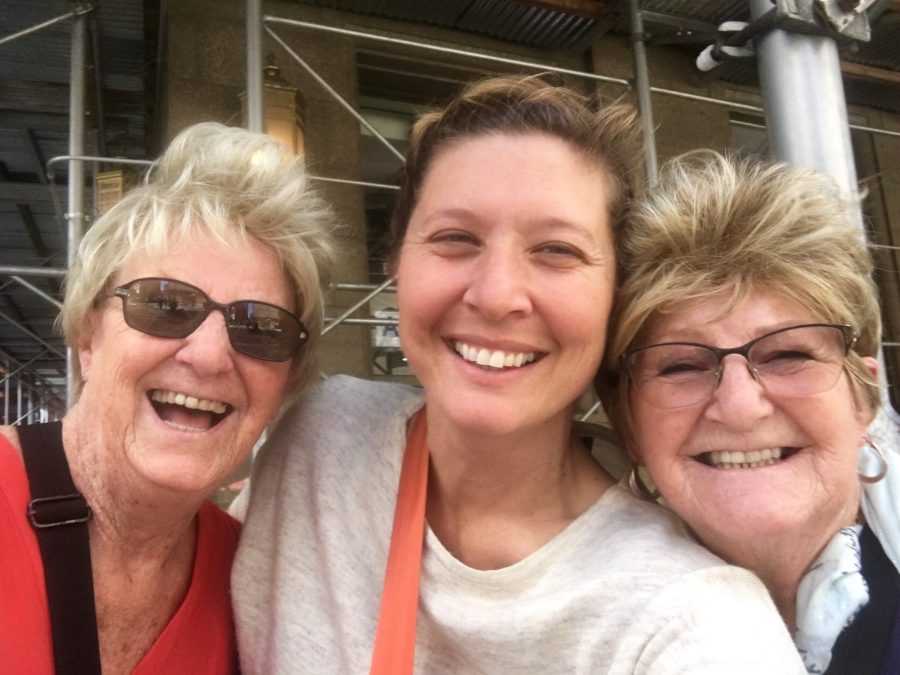 This one is a hard one to explain. It's when you and the city become one.
You can have the most profound ten minute conversation with a random stranger, part ways, and both of your lives have been irrevocably changed from that interaction.
And you know you're a real NYC'er by this time, because this kind of moment is not unusual, but rather expected. Because if you're going to live here for any real length of time, and in order for this busy city to function, there's an unwritten agreement we all have to agree upon. We want you to be your most unique, beautiful, complicated self, and at the end of the day, choose that we are in this together.
"E Pluribus Unum"- Out of many, one.
3. What are the 5 best cafés in the city?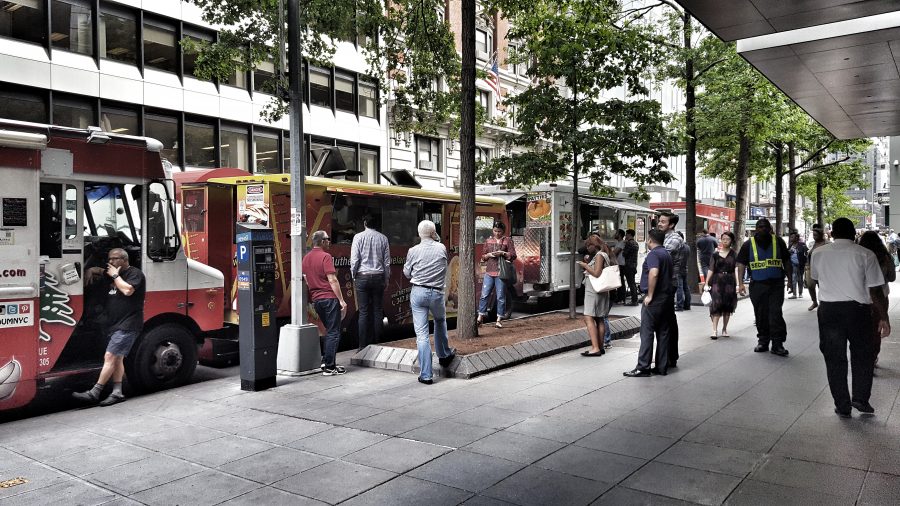 There are so many to choose from. But you wanna know my favorite? The local street trucks. Now stick with me on this one because it's not about the coffee, but rather the guys running the truck. They're amazing! They deal with thousands of people every day, but when you arrive, they know exactly who you are, what your order is, and tell you the punch line to their joke they shared with you last week without you even prompting them. All this for $1. Come on! Love it.
4. What's your favorite part of being a NYC tour guide?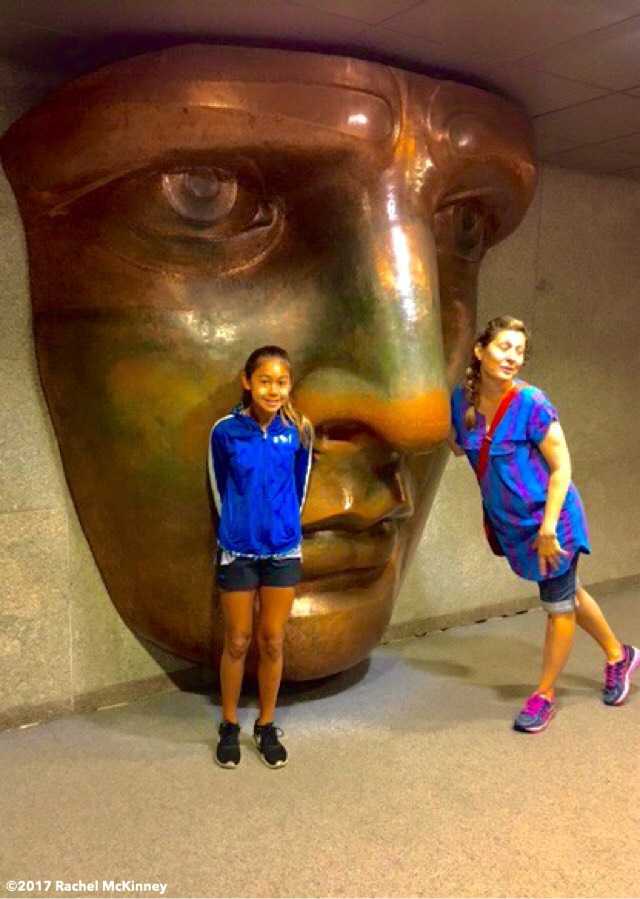 The magic.

I LOVE sharing the history, architecture, and culture of this crazy and amazing city with people from around the world. Whether we bump into celebrities, pop by one of my favorite eateries, or come across a local festival, every day is an adventure!
Examples:
Toward the end of one of my tours, the sky decided to open up and poured buckets of rain on us. Now this could have been the worst case scenario, but my two of my guests from Belgium refused that that was going to be the way we were ending our beautiful day together. Instead, they turned into Gene Kelly and Debbie Reynolds right in front of my eyes, and did the routine from "Singin' in the Rain." True Story.
On another tour, a German baker was so inspired from our conversation about food, that he went back home and started making New York Style Cheesecake, and named it after me! Yes, in some circles, I am known as "Rachel Cheesecake." Best tip I've ever had!
Or the one day, my Greenwich Village tour unintentionally stalked the actor and director Ron Howard. It's a long story. I promise it was only for two minutes. Sorry, Ron!
5. What's your fave stop on our tours?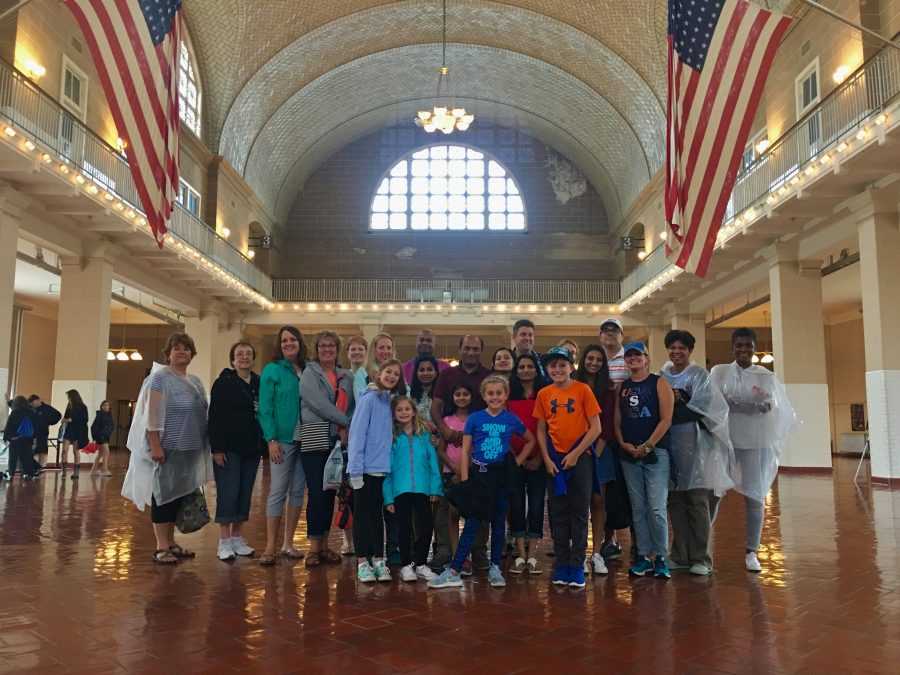 I love Ellis Island. I had no idea how much this island would hold a special place in my heart.
Every day I have the privilege of giving this tour, I make sure to ask if anyone is willing to share their family's story of immigrating through this island. It's my way of making the history come to life.
So many amazing stories are shared with me and my groups on a daily basis. These are just a few.
A family with 10 children fled the Potato Famine in Ireland, only to have half survive the voyage. In order to pay off their passage, this woman's great aunt served as an indentured servant to pay off the family's bill. She did this for 10 years.
A man knew very little about his Italian grandfather. He didn't think his story was "worth" sharing. All he knew was that his grandfather was a brick layer and paved streets. I turned to him and said, "That is the most amazing story." He asked me why. I replied, "Do you realize what you just said?… Your grandfather helped to pave the foundation to this great city… I will never look at a NYC street the same way again."
And about a month ago, I had the privilege of bringing a man back for the very first time since he immigrated through Ellis Island. During WWII, he had been in a concentration camp from the age of 4-8. He said, "I had no idea how much it would mean to me to come back here. This building is where my family and I started our lives."
Giving this tour and hearing these stories has taught me so much about the world. One day when I heard a National Park Ranger call Ellis Island "The Palace For The People," I knew exactly what he meant.
When people ask me what makes NYC special, I reply our strength comes from our diversity. Ellis Island (and Castle Clinton, a less known immigration center in Battery Park), are the gateways and the foundation for this crazy, beautiful, messy, imperfect city, where nearly 60 percent of our country can trace their family roots.