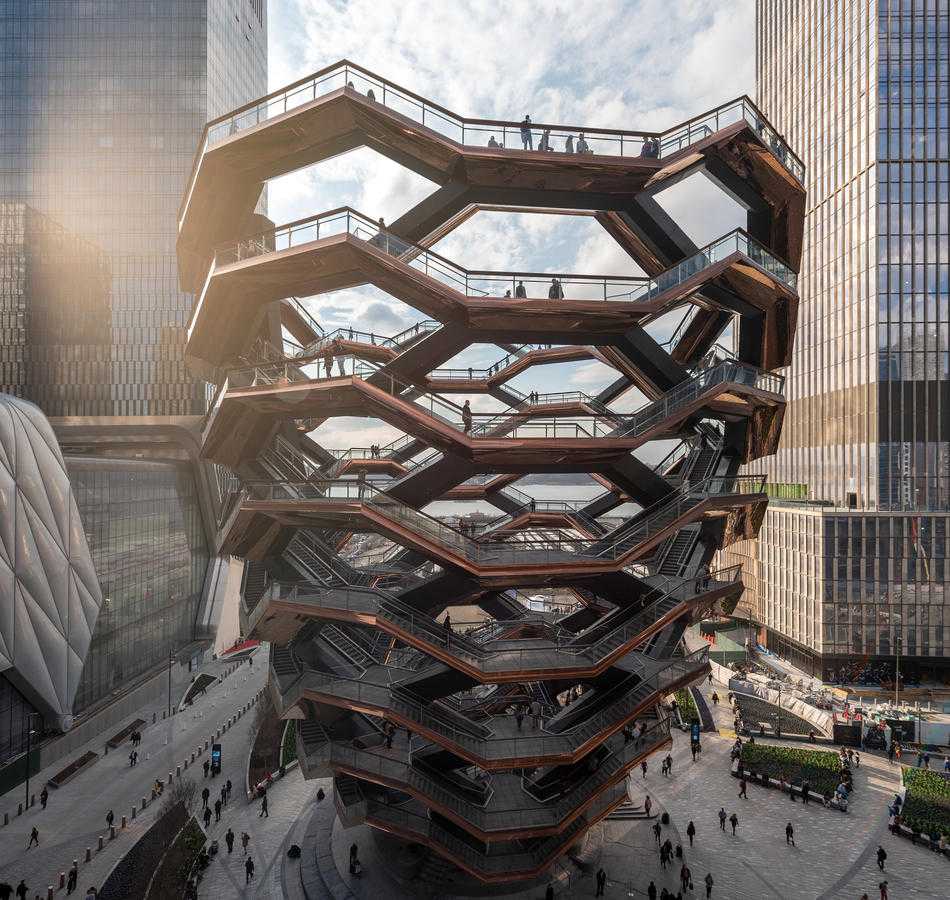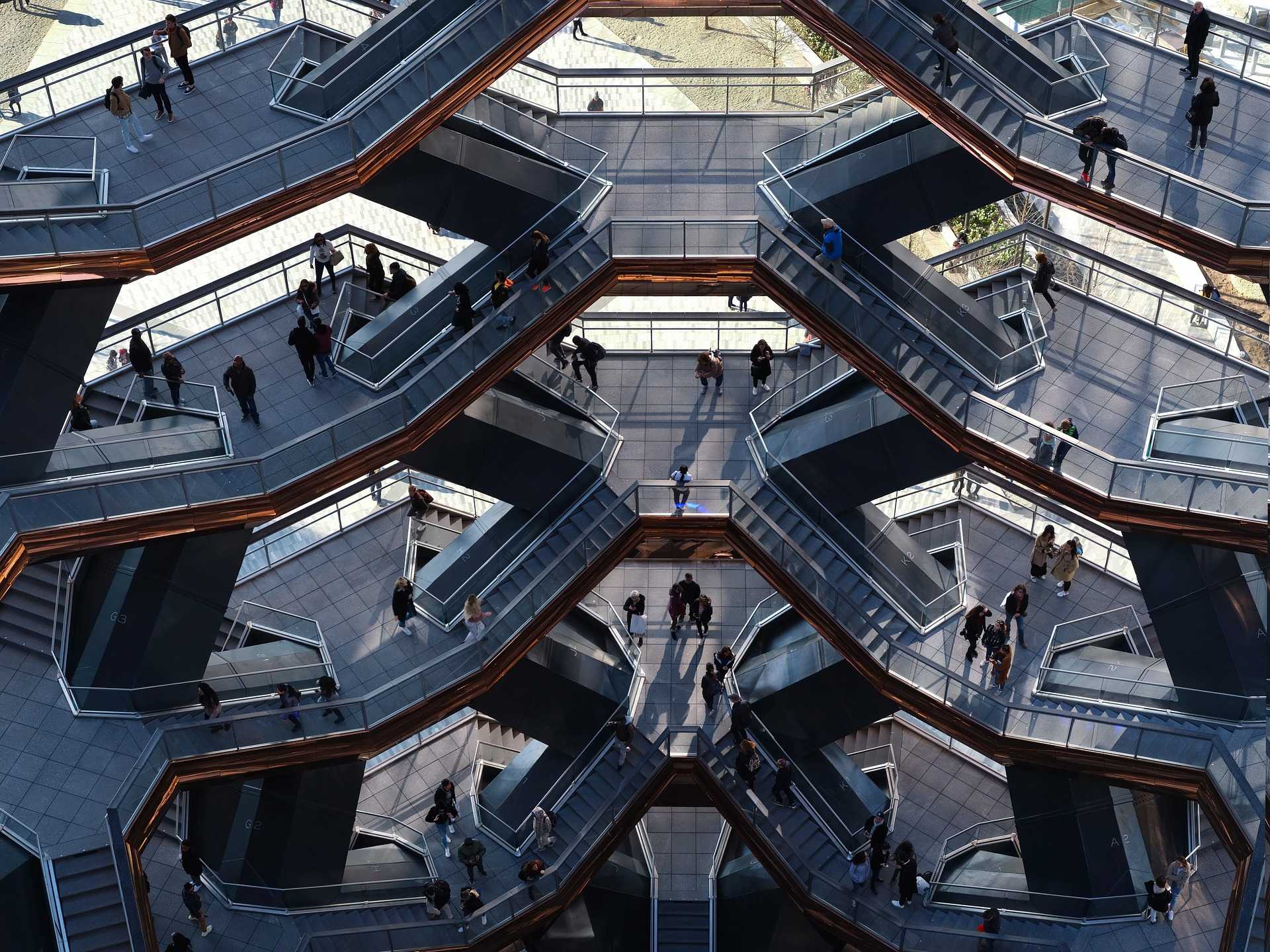 New York City's latest and greatest new attraction has finally opened, debuting in March of this year. Hudson Yards is a public landmark that brings with it, new condominiums, an art center, shopping, restaurants, a public park and viewing deck amongst many other things. The most talked about structure is the Vessel, which has brought great controversy with its design.
Is it a beehive, rib cage, alien spaceship, maybe a Doner Kebab – or perhaps it's intentionally vague.
Some are starting to consider this new creation to possibly be New York's Eiffel Tower.
How to Visit It?
It's address is 20 Hudson Yards, New York 10001 between 30th and 34th St. and between 10th and 12th Ave. The easiest way to get there is to take the 7 train (purple line) to 34th St. Hudson Yards, it's the last stop heading west.
It borders the neighborhoods of Hell's Kitchen and Chelsea. In fact, Hudson Yards is the end point for the Chelsea Highline, a popular landmark in NYC in of itself.
Tip: Make sure to join a tour with a knowledgeable guide on our Highline Chelsea Tour. We offer it everyday at 9:30am. Once the tour is over, make your way to the Hudson Yards, get some lunch and join us for our Secrets of Hudson Yards, Highline and Vessel Tour running everyday at 2:30pm in the afternoon. Get a full day experience on two tours right next to one another.
So What Is There to See Exactly?
The Vessel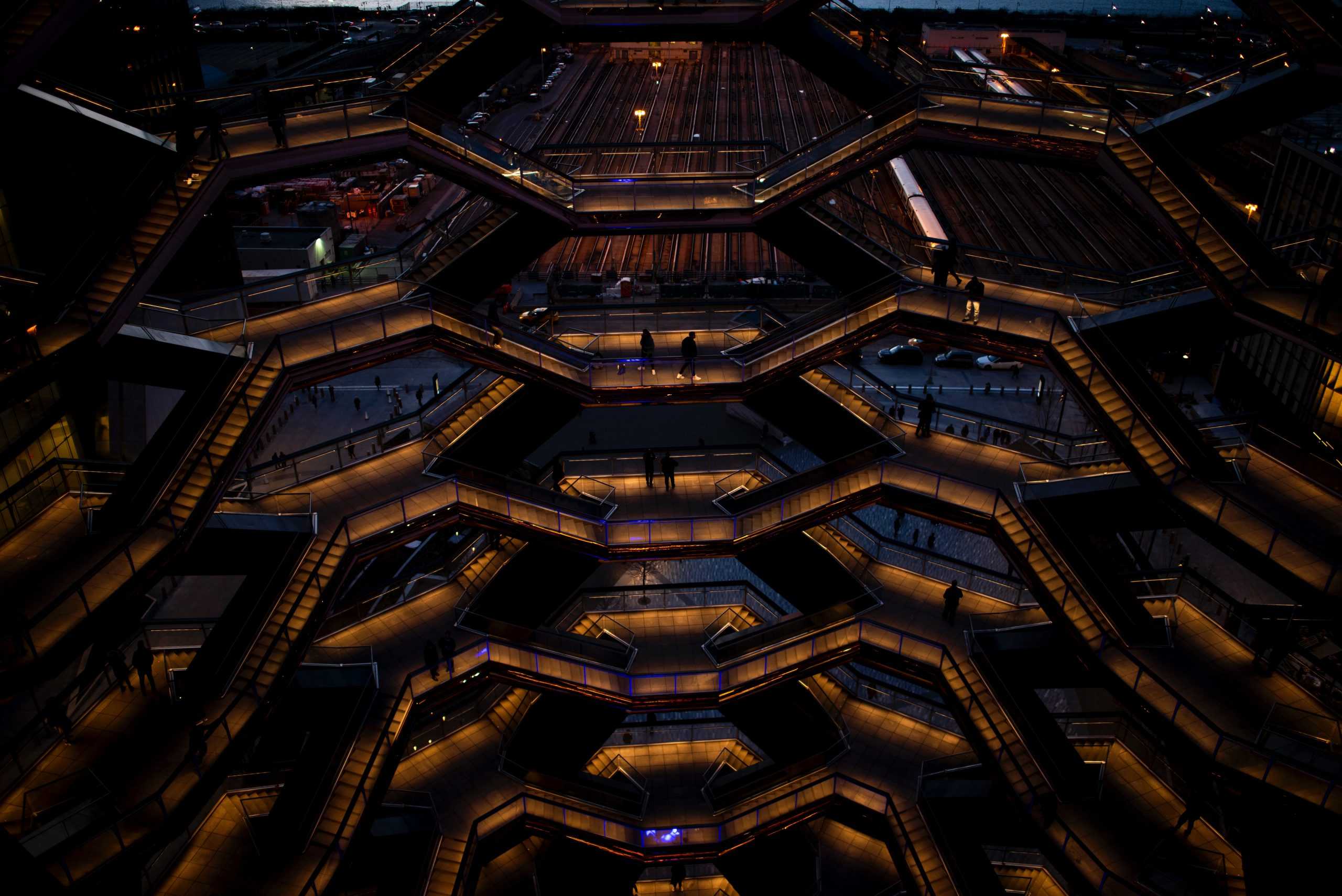 The tall honeycomb-looking thing is a giant, spiral staircase intended to be climbed. Each level up is supposed to offer new heights, each diameter is supposed to offer new angles and overall the staircase offers new vantage points to take in remarkable views of the city, river and so much more.
Tickets to go up the Vessel are required and can be reserved for free online in advance and same day tickets are available on-site each day starting at 9:30am. These tickets are timed and allow you entry to go up the Vessel at a specific time. You can find their tickets right here.
Shopping and Dining
Hudson Yards is expected to be the next emerging shopping destination in NYC. Opening many well known flagship stores and lesser known up and coming brands as well. The hope is for this to become a shopping mecca for years to come, providing all the essential from men's, women's and children's apparel to shoes, jewelry, health and beauty.
The dining experience is provided for all occasions. Coffee & dessert, fast casual, market food, fine dining and drinks are available to choose from here. If you're in the mood for just about any type of meal, this place has it all.
The Shed
It's an 8-level base building that is established to bring all different forms of art together. It includes two large gallery spaces, a theater for concerts and state of the art versatility to make the building flexible in re-arranging space to conform to creating an environment best suited for any performance.
Check out this video below to see how their building operates.
Snark Park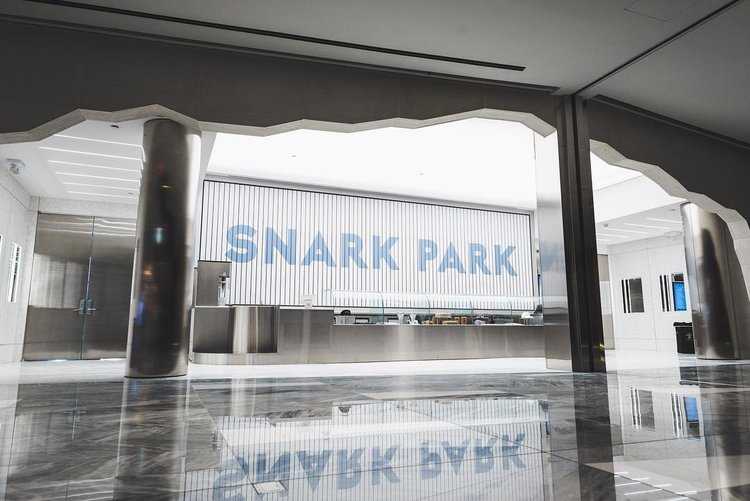 This immersive installation space is interactive and offers a unique experience. It can be found on the second floor of The Shops at Hudson Yards.
The team behind this installation wanted to merge different approaches to art, design, architecture and challenge visitors to re-imagine everyday surroundings into extraordinary ideas.
It's intended for people of all ages and promises to bring something new to every visit so no encounter will ever occur twice.
Tickets are required to enter: $18 Adults, $10 Child
The Edge
This observation deck is expected to open in 2020 and when it does, it will be the highest outdoor deck in the western hemisphere.
You'll be able to walk out 65 feet from the building and stand over 1,000 feet high. They'll even have a bar, restaurant and event space on the 101st floor for all to enjoy
Public Square and Gardens
Between shopping, dining or climbing the Vessel, you're bound to enjoy the expansive parks, gardens and shaded outdoor seating. Hudson Yards claims to have the smartest park ever built. Compared to any other park in New York, this one is an engineering marvel, built for year round enjoyment.
Designed with jet engines that creates ventilation that keeps the plants cool and remove heat. Other highly engineered innovations are implemented to make sure the plants are pampered and supported so they can thrive all year long even in harsh winters and scorching summers.
Live and Work
Hudson Yards wasn't created just for play, but to create a city in of itself. They currently offer condominiums to own or rent. The price tag is probably way too high for the average American to live here, but nothing wrong with fantasizing. For the wealthy, not a bad place to call home. Many of the different residences offer rare urban amenities like pools, sun terraces, fitness centers and artful hang out spots.
If you can't afford to live here, but want to come close to feeling like you do, the Equinox Hotel offers a luxurious stay. These hotel rooms don't come cheap either, but offer the same high quality excellence that the condominiums and rest of the facility provides.
On top of being able to live here, Hudson Yards created offices for businesses looking to find work space. Excellent proximity to shops and restaurants and can be an impressive place to bring clients to and possibly entertain as well.
Hudson Yards is an exciting entity that has come to NYC. There's so much more to learn and explore, this place will be expanding and growing for many more years. To ensure you uncover all that there is to see here, please make sure to come along with an experienced guide and learn about the Secrets of Hudson Yards, Highline and the Vessel, available everyday at 2:30pm.