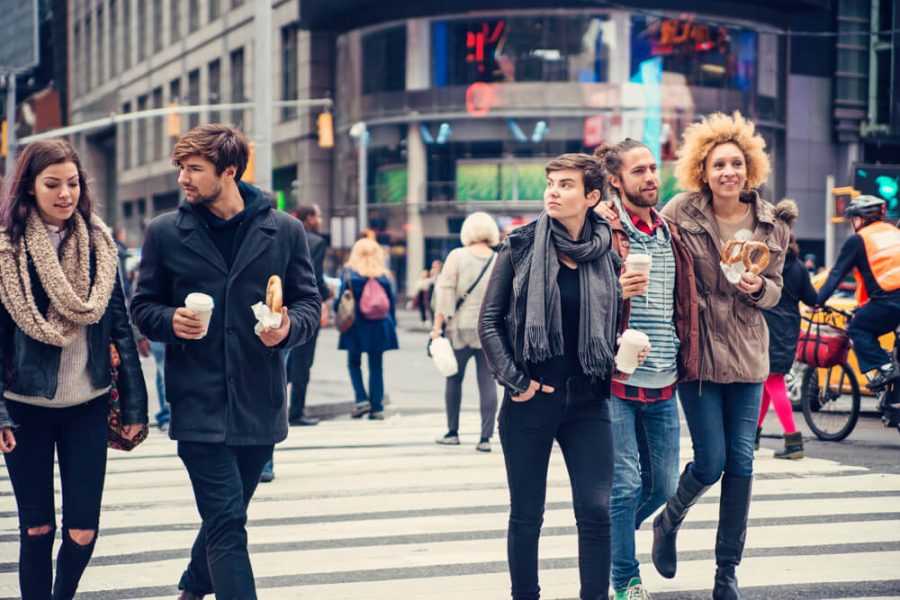 Being a teenager is tough in general, and also quite tricky when you are on vacation. In a city like New York, there are many places that are catered specifically to children. Which teenagers usually find cheesy or boring. There is tons of history to discover and important monuments to see, but many teenagers don't really care about that either. Then you have all the bars and nightlife which aren't accessible to people under 21. So what is left to do? Quite a lot actually, you just have to know where to look. There are all the classic attractions like the Empire State Building and Madame Tussauds, which are entertaining for all age groups. But for the teenagers out there, here are a number of places and activities you especially can enjoy, that the whole family will love too.
1. Shopping in SoHo
For the clothing obsessed teenager, SoHo is the place to be. The neighborhood is filled with shops ranging from high-end clothing to more recognizable and affordable brand names. The best place to go is Broadway, starting at the intersection with Houston Street and heading south all the way down to Canal. You'll find Hollister, Forever 21, Levi's, Victoria's Secret, Nike, Uniqlo…the list goes on and on and on. While you're in the area, check out Dominque Ansel Bakery. Filled with delicious and very stylish treats, this is the place to visit for anyone that likes taking pictures of their food.
2. Chelsea Market
Perfect for the teenager who loves to eat and try new food, Chelsea Market is filled to the brim with over 50 different food vendors. Seafood, sandwiches, crepes, tacos, pasta, brownies, chocolate, coffee- you name it! The aesthetic of the market is also fascinating as well. Reminiscent of its days as the National Biscuit Company, it's halls are adorned with old memorabilia, pipes and works of art that keep the factory ambiance alive, while still creating a space that feels very modern and unique.
3. The High Line
After you visit Chelsea Market, head outside for a walk along New York's most exciting new park- the High Line! This former Elevated Freight Rail Road has been recreated as a public space for everyone to enjoy. Teenagers typically like the amazing views and pictures that you get, as well as the various areas to hang out and relax. There's a small amphitheater with a bird's eye view of traffic, benches with a view of the Statue of Liberty and a large green lawn that's perfect for picnics. Not to mention all the cool buildings you will see along the way. The park itself is about 1.5 miles end to end, so its not too strenuous either.
4. Virtual Reality Experience
Virtual Reality seems to be the new hype, and of course New York is already on top of it with VR World NYC- the largest virtual reality experience center in the country. Very much like a 21st-century arcade, it's located in Midtown, right next to the Empire State Building. The experience is spread out over three floors, with a variety of immersive games, from rock-climbing to painting to surviving zombies. Open 7 days a week, admission ranges from $25-$59 per person based on when you buy the tickets and how long you want to stay. So it's not cheap, but it'll impress any teenager looking to experience something more cutting-edge.
5. Coney Island
This destination requires a bit of a trek, but it's totally worth it! Especially considering it's only the cost of the subway fare. Coney Island has been a world famous destination for years and is a must for any teenager that's dying to get to the beach. Once the swimming and tanning is over, head over to Luna Park for a fun and adventurous evening on one of their many awesome attractions. Ride the famous Coney Island Cyclone, check out the insane Thunderbolt or head over to Deno's to see the infamous Wonder Wheel. The cost of admission is based on the amount of rides you want to do, so no pressure to spend tons of money.

6. Escape the Room
This is something the whole family can, and should, do together. Escape the Room is a physical adventure game in which the participants must cooperate and work together in order to succeed. The concept is simple, you will be placed in a room with a series of hidden challenges. Solve within 60 minutes in order to escape. There are locations both Downtown and Midtown, just make sure you book ahead of time so the whole group will be in it together. You also get the chance to "stage the scene" of your escape. Choose Submarine, the Office, the Clock Tower, or a number of other options that allow you to customize your experience.
7. BEAST Speedboat Ride
There are many options for enjoying New York Harbor, but this seems to be the favorite amongst teens. This speedboat will zoom you up and down the Hudson at a whopping 45 mph for a wild experience on the water. Featuring great views of the Statue of Liberty, Midtown and Lower Manhattan, it'll also be the opportune moment to snap the perfect selfie. If you're not good with adrenaline or being on the water, it's probably best to sit this one out. But on a warm, sunny day, you're in for a real thrill.
8. Trapeze School New York
For the more adventurous and courageous, there is the Trapeze School of New York. This amazing program offers classes in trapeze, trampoline, silks and more. Classes are offered almost every single day for a range of skill levels. So no worries if you have no experience or aren't super fit. It's more important to have fun and to relish the feeling of flying through the air. The classes are meant to let students safely experience the exhilaration of this magnificent art form. All first timers are fitted with a safety belt and will continuously be connected to safety lines throughout the program. It's a crazy and unique way to spend an afternoon and have some fun while acquiring a brand new skill!
9. Bowling and Beyond
Bowling might seem like a casual or boring activity, but not at Chelsea Piers. Bowlmor Bowling Alley and Arcade offers so much more excitement- like a 3,000 square foot laser tag arena, an aerial ropes course, Ping-Pong and arcade games. After 10 p.m. on Friday and Saturday you must be over 21 to enter, so as long as you avoid those hours you'll be golden. It's a great activity for a cold or rainy day, when you just can't bear another second outside. Or if you have 1 or 2 hours of free time with nothing planned.

10. Local Neighborhoods
There's a lot of fun to be had just walking around the city and exploring something new. Teenagers tend to enjoy the more local neighborhoods- places like the Greenwich Village or the Lower East Side. There's good food, interesting buildings and unique shopping. It allows for a more open-ended experience rather than being forced into something. It's also great as a parent if you want to rest your feet at a cafe for a bit and give them a couple hours on their own.