Reserve below on this page only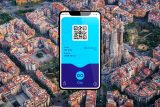 Tours included with your Go Barcelona Explorer and All-Inclusive Pass are completely free, but you must bring a valid pass and show it to your tour guide at check-in.
Here are the steps to take full advantage of your pass:
1. Select one of the tours below, and choose the date of your visit.
2. Reserve your free tour by entering your credit card. Your card will not be charged unless you don't show your valid pass(es) at the start of the tour.
3. Reserve additional tours under the pass by selecting "Add another tour."
Pass rescheduling and refunds
You can always reschedule as long as your Explorer or All-Inclusive Pass is valid for the day of the tour. If your Go pass is no longer valid on your rescheduled tour date, you'll be charged the full amount of the tour. After you've rescheduled once, there are no refunds if you decide not to take the tour.
Barcelona tours available with the Barcelona Go Pass